Downtime in any industry — including oil and gas exploration — is money down the drain. In the O&G industry, an unplanned break in production could mean thousands of wasted gallons of oil.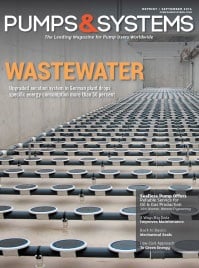 Saltwater, a natural byproduct of oil exploration, must be properly disposed of once it is separated from the oil. It is usually pumped back into the ground by way of disposal wells, using plunger pumps requiring 500 to 700 pounds per square inch (psi) of pressure. But saltwater is corrosive and, when carried through pipes at high pressure, it can erode seals, causing them to leak, clog or fail.
Silver Oak Energy, an oil and gas exploration and production company based in Silsbee, Texas, has often dealt with these issues. J-W Operating Company, an exploration and production company based in Dallas, has also experienced similar issues at its more than 400 natural gas and 13 injection wells.
Both companies were asked to test a new product: a sealless pump. With flow rates up to 96 gallons per minute (3,300 barrels per day, 366.1 liters per minute) at pressures up to 1,500 psi (103 bar), the pump model could be ideal for a variety of applications, including saltwater disposal or injection, bulk transfer, hydraulic lift and steam generation.
To learn the results of these sealless pump trials, read the full free white paper here.