Royal Caribbean International is to install the first fuel cell on a cruise ship in preparation for deploying the technology on its forthcoming Icon-class vessels.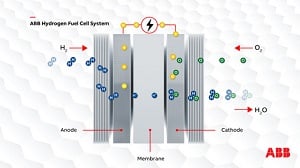 (Source: ABB)The pilot installation, including control, converter and transformer technology from ABB, will generate 100kW of energy. The system was developed, assembled and tested by ABB Marine & Ports. ABB selected an FCvelocity proton exchange membrane pure hydrogen fuel cell engine from Ballard Power Systems for its pilot system.
Fuel cells generate energy by exploiting an electrochemical reaction at the interface between the anode or cathode and the electrolyte membrane. They involve no combustion, converting fuel directly to electricity and heat.
Royal Caribbean announced last October that Meyer Turku will build its Icon-class vessels, with capacity for around 5,000 passengers, to be delivered in 2022 and 2024. At the time it committed to start testing fuel cell technology on an existing Oasis-class ship this year as well as running progressively larger fuel cell projects on new Quantum class vessels being built in the next several years.