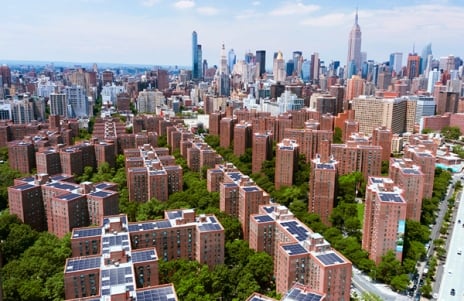 Artist's view of solar panels installed on StuyTown rooftops. Source: StuyTown
A 3.8 megawatt (DC) solar energy system is planned to cover 22 acres of residential rooftops in the heart of New York City.
When completed in 2019, StuyTown will have tripled Manhattan's solar generating capacity.
The solar panels will be mounted to the rooftops and have a 5-degree tilt. The primary installation will not be visible from the ground. In advance of the energy system installation, the property manager worked to have all roofs coated with reflective material. Additionally, the solar modules are expected to help to cool roof surfaces.
NYC-based renewable energy developer Onyx Renewable Partners is project developer for the installation, which will consist of 9,671 solar panels. The project has backing from Blackstone and Ivanhoé Cambridge, a real estate subsidiary of Caisse de dépôt et placement du Québec. The project will be run by StuyTown Property Services, the property management company of Stuyvesant Town and Peter Cooper Village.
Other initiatives at the property have included the installation of LED lighting, high efficiency hot water heat exchangers, elevator shaft louvers to minimize heat loss and domestic water flow control valves, as well as incorporating the use of a centralized building management system to control steam heating distribution and manage all of its sustainable initiatives.
The community has been active in supporting StuyTown's compost waste pickup, averaging just over 10,000 pounds of organic material collected weekly — representing 17 percent of all residential compost waste collected in Manhattan.
StuyTown is one of the largest rental apartment complexes in the U.S., with more than 11,200 multifamily units in 56 buildings across 80 acres in Manhattan's East Village. It houses more than 27,000 New Yorkers and represents 1.7 percent of Manhattan's population.