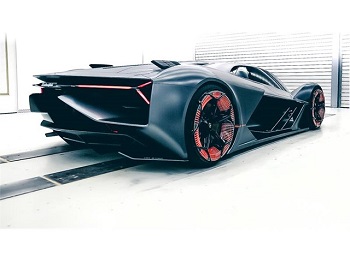 (Source: Lamborghini)After a year-long collaboration with MIT, Lamborghini has unveiled "Terzo Millennio" (Third Millennium) as a new design for future super sports cars. The electric vehicle embodies innovations in terms of energy storage systems, materials, propulsion system and design.
Supercapacitors, which can provide great power and recover and harvest kinetic energy at the same time, will replace batteries as part of the Terzo Millennio's energy storage system. These supercapacitors will drive four wheel-mounted electric motors that give the car all-wheel drive.
A new carbon-fiber bodyshell for the Terzo Millennio will be able to store electrical energy. These body panels will use electricity-storing carbon nanotubes sandwiched between two laminates of carbon fiber.
Design plans also call for a car that continuously monitors the condition of its own structure, detecting wear and cracks. If carbon fiber damage is detected, micro-channels will generate heat to seal cracks that would otherwise spread. This technology will allow carbon fiber to be used more extensively throughout the car, helping to reduce weight.
Don't expect to see this self-healing energy-harvesting vehicle on the road any time soon. It is, after all, just a concept, but one that sheds light on what an electric sports car can be.