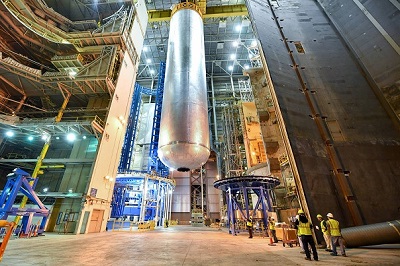 Source: National Aeronautics and Space Administration
Welding and joining techniques evolve to address advanced materials in today's aerospace structures and components. Advanced materials used in the aerospace industry pose joining challenges as the increased melting temperature and high reactivity are inherent to poor material flow and gas entrapment. The added complexity of joining over-sized geometries and dissimilar thickness further complicates the process. Whereas gas tungsten arc welding (GTAW) once dominated the field, friction stir welding (FSW) is gaining traction as the preferred welding technique for rockets.
Aerospace Materials
The original alloy used to fabricate space shuttle external tanks was Al 2219, a high-strength aluminum-copper alloy that was also used for many aerospace applications. In an effort to decrease the payload, Lockheed Martin developed a super lightweight aluminum-lithium alloy, Al 2195 that was used to manufacture super lightweight tanks (SLWT).
The propensity for hot cracking and overall poor workability of the advanced alloy drove NASA's participation with The Welding Institute to implement new welding techniques. They needed to mitigate production costs and address weld quality as arc welding techniques proved to be inadequate.
Common Trends
Gas tungsten arc welding (GTAW) is heavily used in aerospace applications as it is suitable for joining aluminum alloys and exhibits a concentrated heat zone when compared to other resistance arc welding techniques. It provides a clean weld and good weld aspect ratio (penetration to width). Fallbacks include its low deposition rate, the need for highly skilled operators and, even though gas shielding protects the weld pool, welding defects including porosity, gas entrapment, shrinkage and solidification cracking are concerning factors.
Requirements for next-generation launch vehicles and long-term space travel have pushed the envelope for innovative technologies. In order to achieve high-strength, defect-free, uniformly bonded aluminum structures, new joining methods were investigated.
Friction stir welding poses unique advantages when compared to traditional methods used in joining aerospace structures. Its advantages include defect-free bonding, joining of dissimilar metals, increased welding speed and superior mechanical characteristics.
Friction Stir Welding (FSW)
Friction stir welding (FSW) was invented in 1991 by Wayne Thomas at The Welding Institute (TWI). It is a solid-state process that produces superior weld joints in difficult-to-weld materials. No consumables are required and many of the pitfalls of traditional methods are overcome.
In FSW, the weld is achieved by inducing plastic flow of frictionally heated materials. The FSW tool is rotated at high speeds as it traverses the weld joint. Capable of fabricating either butt or lap joints, a single-phase joint is formed due to frictional heat supplied by the wear-resistant tool.
Early drawbacks of FSW included the inability to join materials with inconsistent thickness. To overcome this hurdle, a through-spindle retractable pin tool was developed that could retract or expand within the material to accommodate changes in thickness. The pivotal technology allowed the process to excel at joining seems in the longitudinal barrel of external tanks.
History of Innovation
The United Launch Alliance (ULA), a joint venture of Lockheed Martin Space Systems and Boeing Defense, Space & Security, first used FSW to join Al 2195 for its Delta line of launch vehicles. Today the innovative technology is part of the core competency of the Marshall Space Flight Center Advanced Welding and Manufacturing Facility in Huntsville, Alabama.
The latest endeavors of the space center include the development of next-generation launch vehicles and hardware designed for long-term space travel. The Space Launch System (SLS) is the result of this endeavor, which will incorporate four domes developed by FSW processes. It will be the most powerful rocket ever built and is slated for a 2019 launch date.
FSW has been at the forefront of advanced joining methods used by NASA. Although tooling costs are considerable, FSW has been used to increase weld strength by as much as 50 percent, achieve considerable cost savings and significantly reduce manufacturing time of external tanks used in launch vehicles.
FSW has a promising future in aerospace applications as well as several other industries. It has received FAA approval as well as support by the International Organization for Standardization (ISO) and American Welding Society (AWS), who developed standards ISO 25239-5:2011 and AWS D17.3, respectively, for friction stir welding of aluminum alloys.
Resources:
Advanced joining techniques for the 21st century