Video: High Efficiency Electric Motor for the Bus Market
S. Himmelstein | October 24, 2017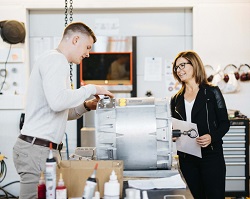 Source: Visedo
Finnish manufacturer Visedo unveiled a new electric motor design at BusWorld 2017 in Kortrijk, Belgium, that is designed for the bus market and ready for mass manufacture. With the new S-model PowerDRUM, Visedo has achieved a 10 percent increase in power output as well as improved cooling. These upgrades mean that Visedo is able to offer the highest efficiency in the market across the RPM range, with the Visedo system being 31 percent more efficient than average.
The new design allows Visedo to deliver several key benefits to its customers in the electric bus market:
– The compact and robust design saves space while ensuring high vibration and shock tolerance.
– The high efficiency will increase battery life while shortening recharge cycles.
– The new PowerDRUM S-model also ensures better hill climbing ability.
The motor is also optimized for high volume manufacture using Visedo's facilities in both Finland and Taiwan. This will allow the company to meet growing customer demand in Europe and Asia. Earlier this year, Visedo signed a historic production and co-operation agreement with TECO, Asia's largest electric motor producer.
Visedo's PowerDRUM range is already powering the transition to electric buses across the globe. The company has projects underway with Linkker in Finland (powering Helsinki's first all-electric buses) and Hybricon Bus Systems in Sweden. Visedo recently started a project with Ledgent Technology in Taiwan, and further announcements in the Chinese, Asian and South-East Asian markets are expected in coming months.
Visedo's drivetrains are based on synchronous reluctance assisted permanent magnet technology (SRPM). They are liquid-cooled and designed to work as traction motors in harsh operating environments. Compared to conventional technologies, like induction machines or standard permanent magnet motors, Visedo SRPM motors offer smaller dimensions, lighter weight and higher efficiency.
The new S-model is part of a design upgrade across the entire PowerDRUM line. The upgraded range includes motors in four different sizes, XS-short, XS, XSe and S, ranging from 50 to 343 kW.