Watch the Evolution of the World's First Floating Wind Farm
S. Himmelstein | October 19, 2017
The six 5 MW floating turbines comprising the 30 MW Hywind Scotland project have started delivering wind-generated energy to the grid.
The wind farm operated by Statoil and United Arab Emirates-based Masdar is sited 25 km offshore from Peterhead in Aberdeenshire, Scotland, and will provide power for approximately 20,000 households. Statoil assembled the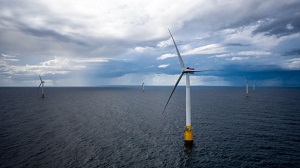 The Hywind Scotland floating wind farm. Source: Øyvind Gravås / Woldcam - Statoil ASAturbines in Norway and ferried them about 1,000 miles south to be secured to the seabed by three 16 m (52 ft.) tall, 5 m (16 ft.) diameter suction anchors. Each anchor weighs 111 tons, ensuring that the turbines stand upright. These floating turbines are anchored at 78 m (255 ft.), and they can be rigged at depths of over 800 m (2,600 ft.). The wind farm also includes Batwind, a 1 MWh lithium battery storage solution for offshore wind energy.
"Statoil has an ambition to reduce the costs of energy from the Hywind floating wind farm to € 40-60 €/MWh by 2030. Knowing that up to 80 percent of the offshore wind resources are in deep waters (+60 m / 197 ft.) where traditional bottom fixed installations are not suitable, floating offshore wind is expected to play a significant role in the growth of offshore wind going forward," says Irene Rummelhoff, executive vice president of the New Energy Solutions business area at Statoil.