Sidewalk Toronto: A Google "Smart City" of the Future
Abe Michelen | October 18, 2017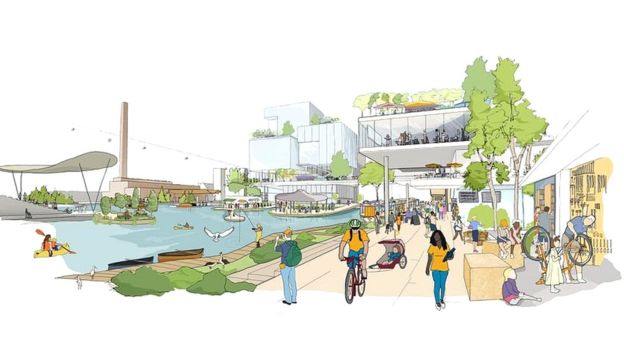 An artist depiction of the Quayside waterfront after completion. Source: Sidewalk Labs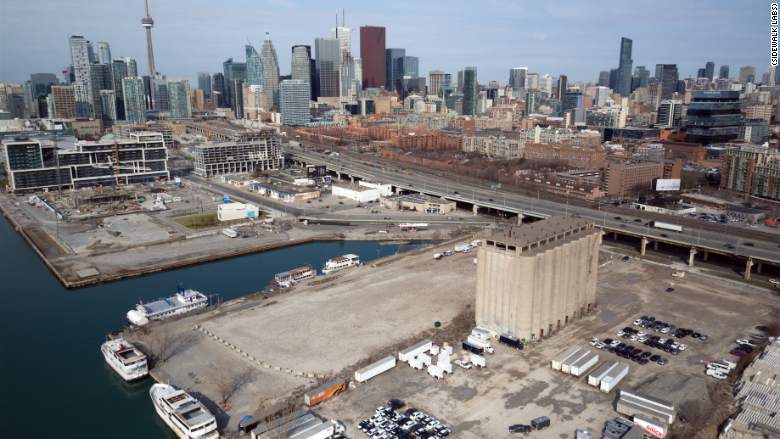 The Quayside as seen today. Source: Sidewalk Labs
After building a search engine, a self-driving car, smartphones, a smartwatch, the Pixel 2, virtual reality gadgets and many others items of high technology, Google is now going into the business of building smart cities. On October 18, Sidewalk Labs, owned by Alphabet, which is Google's parent company, announced a partnership with the city of Toronto to build a digital city in a dilapidated waterfront neighborhood.
The goal of the project — called "Sidewalk Toronto" — is to turn the first 12 acres of the 800-acre Quayside waterfront area into a smart city. Quayside is one of the continent's largest areas of underdeveloped urban real estate. According to Sidewalk Labs, the main objectives are as follows:
Establish a complete community that improves the quality of life for a diverse population of residents, workers and visitors.
Create a destination for people, companies, startups and local organizations to advance solutions for the challenges facing cities, such as energy use, housing affordability and transportation.
Make Toronto the global hub of a rising new industry: urban innovation.
Serve as a model for sustainable neighborhoods throughout Toronto and cities around the world.
The project, when finished, will include 3.3 million square feet of residential, office and commercial space. Google Canada headquarters will also move there. At the announcement, officials on hand included Prime Minister Justin Trudeau, Ontario Premier Kathleen Wynne, Toronto Mayor John Tory and Alphabet Executive Chairman Eric Schmidt.
The mayor said, "Sidewalk Toronto would represent North America's largest example of the smart city, an urban district that is built around information technology and uses data – about traffic, noise, air quality and the performance of systems including trash bins and the electrical grid – to guide its operation. This is first step toward creating a global hub for urban innovation in Toronto. This is a moment for Toronto."
"This will create a test bed for new technologies in Quayside," Prime Minister Trudeau said. "Technologies that will help us build smarter, greener, more inclusive cities - which we hope to see scale across Toronto's eastern waterfront and eventually in other parts of Canada and around the world."
This project, unlike the case of Amazon, which is soliciting bids from American and Canadian cities for its new headquarters, comes from a direct invitation to Sidewalk Labs from the Ontario government. Private-public collaborations, such as this one, bring benefits, but according to Robert Puentes, an urban planner from the U.S. think-tank Eno Center for Transportation, cities should wary of what they are getting into.
"Cities are trying everything they can to boost their economies and build infrastructure, but they have to realize that companies are not doing it for altruistic reasons - they are interested in generating profit for their shareholders," he said. "Cities need a clear vision of what they want to achieve, and they shouldn't expect the private sector to do the job for them."
The technology involved in the project is full of ambitious and radical ideas. For instance, they will include hundreds of sensors to collect data about the urban environment, including "hyperlocal weather," air quality sensors, and cameras with artificial intelligence software to track the traffic flow in order to make use of dynamic signage, along with guidance from smartphone apps. The access to these sensors will be open to the public, but new regulations will be needed given that this is the first time a project like has been attempted.
"This is the big frontier around smart cities," said Pamela Robinson, a professor at Ryerson University's School of Urban and Regional Planning who is researching data and smart cities. "Do proprietary relationships between corporations and governments make data more closed? Probably they do, but governments have made commitments to open data. So how does that get resolved?"
Other novel ideas to be implemented in Sidewalk Toronto include, among many others:
Self-driving taxibots and buses. Taxibots — the transportation backbone of the neighborhood — are small, self-driving cars controlled by app-based services such as Lyft.
Smart parking. Prices for parking will vary based on real-time availability.
Garbage robots. Industrial robots, moving in an underground network of utility tunnels, would manage the collection of trash and recyclables.
Smart buildings. This includes flexible and modular buildings.
Flexible but walkable streets.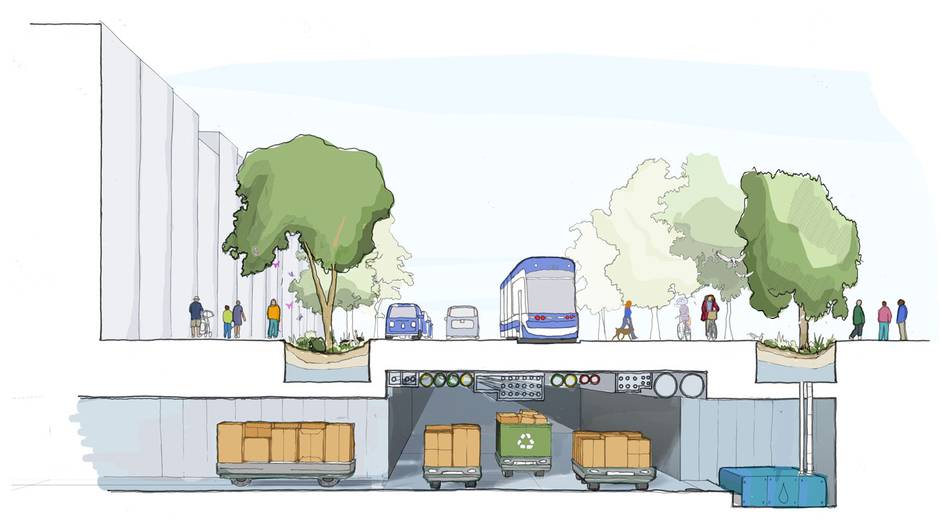 Underground tunnels let Quayside's garbage robots and autonomous vehicles travel the area out of pedestrians' way. Source: Sidewalk Labs

The way buildings are constructed and divided will be redesigned in Quayside. Source: Sidewalk Labs
With all these unique innovations, Sidewalk Labs promises to make life for the residents much improved: more comfortable weather, reduction of greenhouse gases by 73 percent and reduction of potable water consumption by 65 percent and landfill waste by 90 percent.
It is indeed a very ambitious project!