Watch: First Hybrid Energy Storage System to Sail on an Offshore Supply Ship
S. Himmelstein | October 16, 2017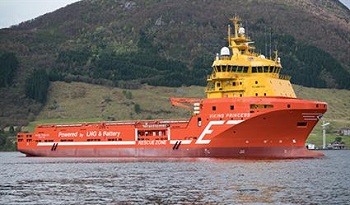 This is now the first offshore supply vessel in which batteries reduce the number of generators. Source: Wärtsilä
The installation of a hybrid energy system on board Eidesvik Offshore's Viking Princess makes this Norwegian vessel the first offshore supply vessel in which batteries reduce the number of generators aboard the ship. The system installed by Finnish technology group Wärtsilä is expected to realize fuel savings up to 30 percent in various operations as well as carbon dioxide emission reductions of 13–18 percent per year.
A malfunctioning generator has been replaced with a module containing battery, transformer and converter. The battery system is augmented by three LNG-fueled engines and provides balancing energy to cover the demand peaks, resulting in a more stable load on the engines. The technology prevents the engine load from dipping, and uses the surplus to re-energize the battery, which can be charged as needed.
Wärtsilä's remote monitoring and operational advisory services support the daily operation of the vessel ensuring efficient and optimized operations.