A zero-emissions Transport Refrigeration Unit (TRU) has completed a five-month trial on a truck delivering fresh dairy products throughout Fresno, Calif. TRUs are typically powered by high-polluting, small diesel engines to provide cooling needed to transport chilled products. The new system is solar-powered and achieved emission reductions of 98 percent nitrous oxide, 86 percent carbon dioxide and 97 percent particulate matter during the test period.
The "Rayfrigeration" TRU from eNow Ray features an 1,800 W solar system in combination with a Johnson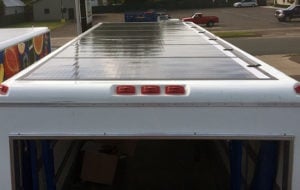 Photovoltaic panels mounted on the dairy truck's roof. (Source: eNow)Truck Bodies refrigeration unit and Emerson's efficient compressor technology. The unit's cold plates and batteries are initially charged from utility power overnight, but while on a delivery route, power is provided by eNow's solar photovoltaic panels mounted on the truck's roof.
Designed to support medium-temperature refrigeration applications, the Rayfrigeration unit is also projected to reduce operations costs by up to 90 percent by eliminating diesel fuel and maintenance costs. An increase in battery life associated with consistent charge maintenance by eNow also contributes to reduced operating costs.
The solar-charging technology is available through eNow, which currently has more than 4,000 solar systems operating in the U.S. on Class 8 trucks, buses, emergency and utility vehicles. These installations support applications as diverse as heating and cooling, liftgates, wheelchair lifts, safety lights, telematics, and other transportation applications.