Doors are a weak link in hospital hygiene because of the number of times people touch them. A low-cost device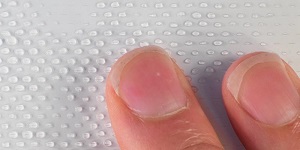 A Surfaceskins pad showing the tiny valves that distribute anti-bacterial gel. Source: University of Leeds composed of three separate nonwoven textiles can help eliminate this travel route for infectious bacteria. Pushpads stuck onto push-activated in-hospital doors release alcohol onto its surface when touched, helping to disinfect the surface.
The antibacterial door pads, known as Surfaceskins, are fitted into a plastic holder that is attached to a door. The pads contain a reservoir of alcohol gel and a membrane with tiny valves that dispense the gel onto the surface where it is pressed when opening a door, self-disinfecting it within seconds. The device is designed to be replaced after seven days or one thousand pushes, whichever comes sooner.
The Nonwovens Innovation and Research Institute Ltd., the University of Leeds, UK, spin-off that developed the technology, has also developed a door handle using Surfaceskins for doors that open toward you.
To gauge the effectiveness of this approach, both the Surfaceskins and control aluminum door plates were inoculated with bacteria at levels found on the hands of hospital staff. The Surfaceskins door pads proved more effective than standard door plates over seven days in reducing the levels of three bacteria that commonly cause hospital-acquired infections: S. aureus, E. coli and E. faecalis.
The researchers caution that the door pads are not meant to replace the strict handwashing rules in hospitals, but instead to provide an extra line of defense by helping clean hands to stay clean.
While the new technology helps to alleviate doors from being a pathway for infections to spread, it does not clean the hands nor reduce the need to use existing hand washing procedures. Surfaceskins could also find application in other sectors with a need for meticulous hand hygiene, such as in catering, hospitality and cruise ships.