The SUMOTM family of electric powertrains from TM4 (Boucherville, Quebec, Canada) has expanded with the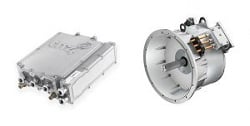 Source: TM4introduction of the new SUMO HP line dedicated to high-power applications. As part of this new line, TM4 is launching the SUMO HP HV900, a new motor/generator and inverter combination for the commercial heavy-duty market.
The SUMO HP HV900 offers 190 kW of continuous power and 915 Nm of torque in a casing of only 200 mm in length. It was purposely developed for series and parallel-hybrid configurations and can be coupled with diesel engines, multi-speed gearboxes or integrated to axles for ultra-low floor buses. TM4 offers this new motor/generator with its three-phase CO150 inverter, already used in thousands of vehicles worldwide.
The efficiency of the system reaches 95 percent and has been developed to match the efficiency of a diesel engine, which is instrumental to optimize fuel savings. In fact, in a series-hybrid, the combined use of the electric traction system, the optimized gen-set and electrified accessories can result in a minimum of 50 percent in fuel economy compared to a conventional diesel-powered vehicle.
TM4 introduced its SUMO family of powertrains five years ago to assist its customers with cost-effective vehicle electrification. The SUMO HP line is the latest member of this family that already includes the SUMO MD line, dedicated to medium-duty vehicle applications and the SUMO HD line, targeted at heavy-duty vehicle applications.
As announced in May 2017, the SUMO HP HV900 is currently being used as part of the plug-in hybrid powertrain system developed in a joint effort with Cummins. This new motor/generator will be shown on booth 837 at Busworld Kortrijk, taking place from October 20-25, 2017 in Kortrijk, Belgium.