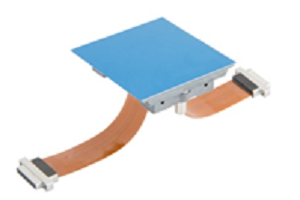 CCD250 sensor. Source: Teledyne e2v
Teledyne e2v, global provider of RF power solutions, imaging solutions and semiconductor solutions, has been awarded a multimillion-dollar contract by SLAC National Accelerator Laboratory (SLAC) to supply customized Charge Coupled Device (CCD) image sensors for the Large Synoptic Survey Telescope (LSST; www.lsst.org). This 8.4-meter telescope is being constructed in Chile to carry out a 10-year survey of the sky to address fundamental astronomy questions about dark matter, dark energy, near Earth asteroids, transient optical objects (such as supernovae) and the formation of our Milky Way galaxy.
SLAC is building the immense camera to record images that cover an area of 49 times that of a full moon. The powerful telescope will capture images of the entire sky every few nights in multiple color bands. These will be used to construct a detailed catalog of the sky, providing brightness, color and time variability information at a greater depth than ever before.
"This telescope and camera will stimulate the astronomy world with a huge survey data set, which will be followed by many astronomers worldwide and will set a new standard against which other instruments will be compared," says Dr. Paul Jorden, Astronomy Product Specialist at Teledyne e2v. The sensors have very challenging design features and Teledyne e2v has demonstrated that they can be made in large quantities and delivered on a tight schedule.
For more information, click here.