Many Americans perceive that pursuing a career in manufacturing means resigning oneself to a dirty job and expecting to come home from work looking like a coal miner or heavy equipment mechanic. At one time manufacturing meant filthy and dangerous work, but Manufacturing Day, held the first Friday of each October in the United States, looks to change that outdated perception.
Manufacturing Day, or MFG DAY, was created by the Fabricators and Manufacturers Association, International in 2012. The National Association of Manufacturers (NAM), the Manufacturing Institute (MI) and the National Institute of Standards and Technology's (NIST) Hollings Manufacturing Extension Partnership (MEP) have all worked with FMA to grow and support the initiative.
Not Your Parents' Manufacturing
Manufacturing Day seeks to achieve five goals: to empower manufacturers, change public perceptions about manufacturing, introduce young people to manufacturing careers, draw attention to the roles manufacturers play in communities and to highlight the social and economic importance of manufacturing.
Dave Cranmer, deputy director of Hollings MEP for NIST, highlighted the second and third points in a keynote speech at the State University of New York (SUNY) Polytechnic Institute's Business Connection Forum on October 3. The event was held at SUNY Polytechnic's Albany, N.Y campus.
"Manufacturing Day [was started] to try to improve the image of manufacturing in the United States, which had sort of gone down the drain," Cranmer said. "It has events throughout the country where companies will invite high school students and others to come to their facilities to see how manufacturing has changed over the last five or 10 years, so it becomes known again as a more viable career option than it was when manufacturing was dark, dirty and dangerous—it's not that way anymore."
"Go into [any manufacturing lab] and it would prove it to you immediately," he added.
A major aspect of MFG DAY is working with manufacturers around the country to schedule events on October 6 or any time during the month of October. Events range from factory tours and expert forums to design competitions and all-day Girls Employed in Manufacturing (GEM) conferences. Some events incorporate skills-gap surveys to guide high school students interested in a manufacturing career into potential paths of study.
The celebration has grown at a healthy pace since its inception in 2012. The MFG DAY website lists nearly 2,500 events for 2017, compared to 240 in 2012. In 2016 MFG DAY featured over 2,800 events and involved an estimated 595,000 participants, including around 267,000 students.
An Industry in Transition
The United States manufacturing industry started a notable decline around 2000. From that time until 2016, the country lost 5 million manufacturing jobs. Many of these jobs disappeared as companies moved manufacturing operations overseas, and like many industries manufacturing was hit hard by the global financial crisis of 2007-2009.
While in 2014 the Bureau of Labor Statistics (BLS) predicted a steady decline for the manufacturing industry through 2022, the actual numbers offer a glimmer of hope. According to BLS statistics the industry bottomed out at the start of 2010 but has grown steadily since. United States manufacturing has actually added one million jobs since January 2010.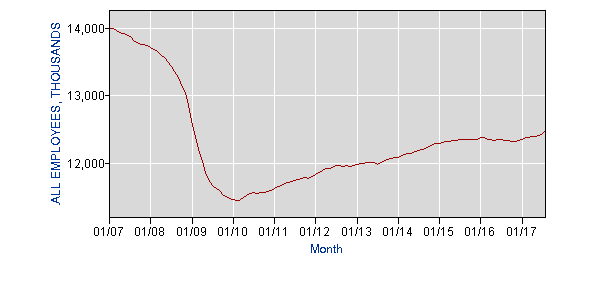 Since bottoming out in early 2010, the manufacturing industry has added 1 million jobs. Source: Bureau of Labor Statistics
MFG DAY strives to educate students and young people about the benefits and desirability of manufacturing careers to continue to boost the industry. The manufacturing industry's median annual wages are higher than average, for example. The 2014 average starting salary for a recent college graduate in manufacturing was $56,841, according to the BLS. For comparison, the average starting salary for a recent graduate in all industries was $45,473. And according to a Manufacturing Day press release, 90% of manufacturing employees have medical benefits and manufacturing companies have some of the highest job tenure in the private sector.
Changing Perceptions—The Numbers Don't Lie
Starting in 2015, the Manufacturing Institute partners with Deloitte to measure Manufacturing Day's impact with an annual survey. According to the 2016 survey:
89 percent of participants are now more aware of manufacturing jobs in their communities
84 percent are more convinced that manufacturing provides rewarding and interesting careers
64 percent are more motivated to pursue careers in manufacturing
71 percent are more likely to tell friends, family or colleagues about manufacturing following their event
For more information or to find an event near you, visit MFG DAY's website at www.mfgday.com.