Hydrogen is one of the most abundant elements and is considered by many people to be a potential clean fuel of the future. Water and fossil fuels contain a lot of hydrogen, but unlocking molecular dihydrogen fuel from these sources takes a lot of energy, which is making some people doubtful of any future hydrogen economy. Turning water into hydrogen with solar could lead the way to cheap and clean hydrogen fuel. This process currently relies on photocatalysts that contain expensive precious metals that limit its capacity.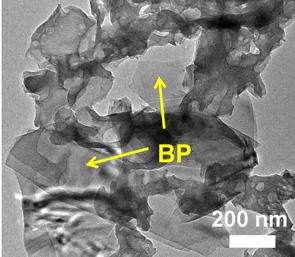 Transmittance electron microscopic image of the composite photocatalyst with two components, black phosphorous (BP) and graphitic carbon nitride (g-C3N4). Source: Osaka University
Researchers at Osaka University have developed a new kind of photocatalyst for producing hydrogen from water. This method is free of expensive metals and absorbs a wider range of sunlight than before.
"We were pleased to find a good amount of hydrogen produced from water using our new composite photocatalyst with graphitic carbon nitride and black phosphorous," lead author Tetsuro Majima said. "But what we didn't expect to find was that even when using low-energy light, in the near infrared, the photocatalyst continued to produce hydrogen."
Just like graphite, graphitic carbon nitride forms in large sheets, but carbon nitride sheets have holds that can interact with hydrogen molecules. In the past, photocatalysts based on carbon nitride have needed help from precious metals to produce hydrogen from water. The researchers found the metal could be replaced by a kind of phosphorous that is widely abundant and inexpensive.
Their photocatalyst was effective for producing hydrogen from water with energy from different kinds of light. Most unusually, even near-infrared light with low energy could drive the hydrogen production.
Studies of the working photocatalyst in the picosecond time scale revealed that strong interactions between the carbon nitride and black phosphorous in the composite promoted hydrogen production. When the two materials were tested separately, the energy from the sunlight was rapidly dissipated and little or no hydrogen produced.
Majima says, "The hydrogen economy faces a great many challenges, but our work demonstrates the potential for efficiently and cheaply producing hydrogen from water with a photocatalyst based on widely abundant elements. This is an important step toward making other hydrogen-based technologies economically and environmentally viable."
A paper on this research was published in the Journal of the American Chemical Society.