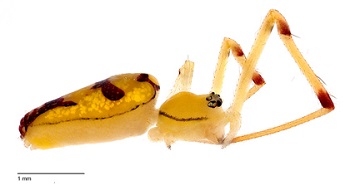 Meet Spintharus berniesandersi. Source: Agnarsson Lab students/University of Vermont
Scientists who discover a new species are entitled to name it, and not necessarily in accord with the taxonomic code developed by Carl Linneaus. Cases in point: Ba humbugi, a snail from Fiji, and Heerz tooya, a parasitic moth found in Mexico.
A University of Vermont undergraduate research project now gives us 15 new spider species, including Spintharus berniesandersi, S. barackobamai and S. leonardodicaprioi.
Says spider expert and professor of biology Ingi Agnarssonat, "In naming these spiders, the students and I wanted to honor people who stood up for both human rights and warned about climate change—leaders and artists who promoted sensible approaches for a better world."
These "smiley-faced spiders"—named for a smiley face pattern on their abdomens—were previously treated as one widespread species inhabiting North America down to northern Brazil. The researchers discovered and described many endemic smiley-faced spider species throughout the Caribbean region and the southern United States.
"All of a sudden we have fifteen-fold increase in diversity in this particular group—just because we did a detailed study," says Agnarsson. "That tells us something about biodiversity in general. The more we look, the more we discover." Conservation biology, the team notes, fundamentally depends on good taxonomy, since preserving one widespread species is a radically different task than protecting the precise habitat of a genetically isolated, local species.
And while not a spider from Mars, one new species was named S. davidbowiei.