Video: Tough and Efficient Peristaltic Pumping Solution
S. Himmelstein | October 01, 2017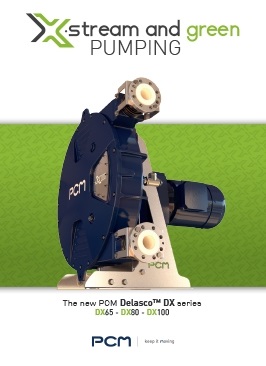 Source: PCM
A new peristaltic pumping solution from PCM minimizes water waste while increasing pumping efficiency.
The Delasco™ DX series (DX65, DX80 and DX100 models) was developed with technology that will meet the expectations of today's mining and environment markets and the requirements of chemical and new energies applications. The main concerns of customers when dealing with big peristaltic pumps are to improve the efficiency and cost-effectiveness of their operations, enhance maintenance with MIP (maintenance in place) and reduce energy consumption.
With PCM Delasco™ DX series, all fluids flow, including abrasive and high solids content slurries up to 80 percent dry solids, corrosive high density media, viscous shear sensitive particles or corrosive gaseous fluids. There is no need to add water to enable pumping nor is the pump operation and efficiency affected by variations in solids, viscosity or pressure.
The robust shock resistant heavy cast X-cover design and placement of all sensors at the rear to protect them renders the DX series ideal for tough environments. The pumps operate with any type of drive and motor thanks to a quick plug-in-drive system.
PCM Delasco™ DX series can generate flow rates up to 55m3/h and are also available in duplex configuration. With two pump heads and one single drive, the series doubles the flow rate of a single pump up to 100m3/h with the benefits of a reduced footprint, fewer pulsations and lower maintenance cost.
Easy on-site maintenance and short downtime are realized with an ingenious pull-out system that allows fast connection removal and easy hose change in minutes. Internal bearing technology eliminates load on gear motor bearings, enhancing heat dissipation and reducing drive-related maintenance.