According to MarketsandMarkets Research, the coating resins market (in terms of value) is estimated to rise from $29.03 billion in 2015 to $38.15 billion by 2020. The coating resins market, along with its applications, witnessed a moderate-to-high growth in the past few years and is likely to continue in the coming years. The growth of the coating resins market is primarily triggered by economic growth in developing countries, growth in end-use industries, increasing investment in infrastructure, stringent environmental regulations and increasing purchasing power.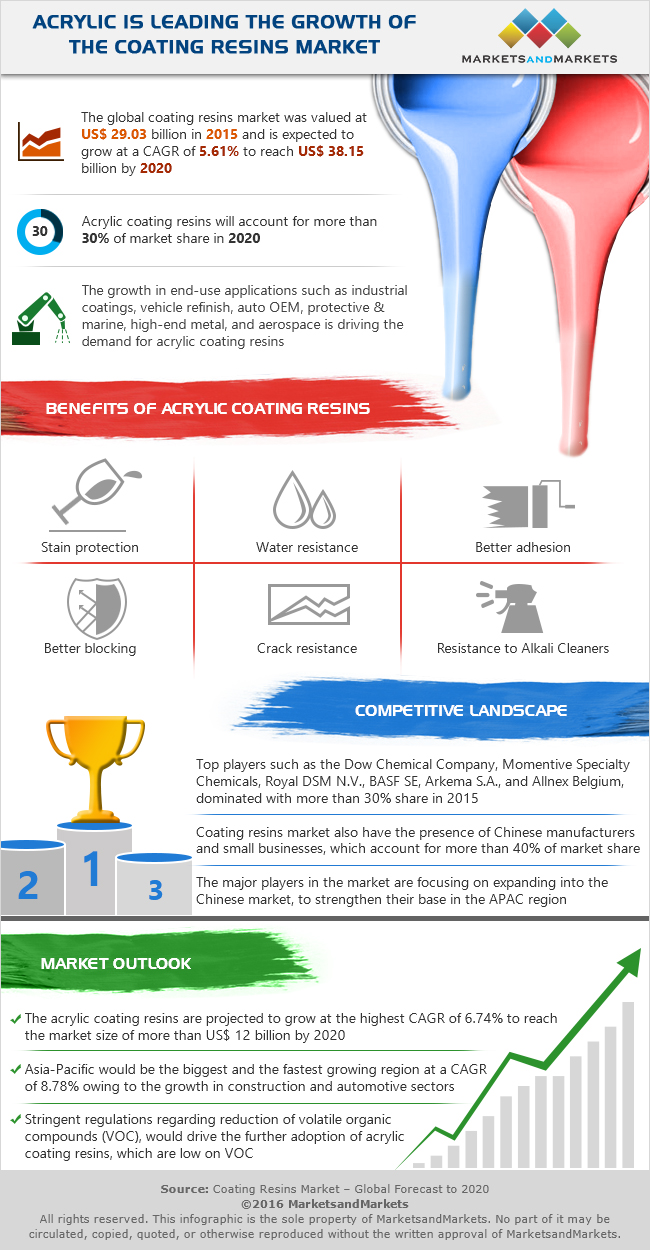 (Image Credit: MarketsandMarkets)
When we look at Asia-Pacific, Europe and North America, we see the acrylic resin market dominating. The developing regions dominate the acrylic resin market due to growth in related segments. Of these countries, China is the top most consumer of acrylic resins, and is also the largest market for acrylic resins. The U.S. is the second largest consumer of acrylic resins, while the Middle East and Africa are expected to witness a growth rate, higher than global average, from 2014 to 2019. The market in this region is experiencing increased demand in several applications of acrylic resins.
Paints and coatings are the topmost application segments and methyl methacrylatedominates is the key raw material in the acrylic resins market.
Paints and coatings take topmost positions in the acrylic resin market with more than 35 percent share, by volume and by value. The fastest growth rate is expected to come from paints and coatings used in residential and commercial constructions, decorative coatings and DIY coatings. Acrylic acid is the main raw material for the acrylic resins. MMA (Methyl methacrylate) dominates the acrylic resins market in terms of volume and value.
To view the full research report click here.