Bombardier Commercial Aircraft announced a purchase agreement with SpiceJet Limited of India for up to 50 90-passenger Q400 turboprop airliners. The deal is the largest single order for the aircraft and brings the total Q400 orders to more than 600.
The purchase agreement includes 25 Q400 turboprops and purchase rights on an additional 25 aircraft. Based on list prices, the order is valued at up to $1.7 billion.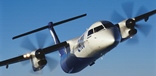 Bombardier Q-series turbopropSince 2010, SpiceJet has taken delivery of 15 new Q400 aircraft. The airline currently operates 20 Q400 aircraft in a 78-seat configuration to domestic and international destinations.
The deal comes in the same week that the International Trade Commission, a unit of the U.S. Commerce Department, ruled in favor of Boeing after the company complained Canada-based Bombardier received government subsidies allowing it to sell its C Series airplane at a discount.
The ITC agreed with Boeing and determined that Bombardier's planes should be tagged with a 219.63 percent tariff, higher than Boeing was proposing.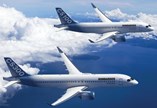 Bombardier C-series aircraft in flight.At issue was a 2016 order from Delta for up to 125 C Series planes. Boeing claimed Bombardier sold each plane for millions less than the list price of $80 million. Boeing claims the company was able to undercut the price of its 737 because of subsidies from the Canadian government.
The ITC could impose another tariff on C Series planes in early October when it rules on another Boeing complaint that Bombardier dumped its planes in the U.S. at unfair prices.
The Commerce Department decision prompted Canada to threaten to cancel a $5.2 billion order for Boeing F/A-18 Super Hornet fighter jets.