How did the ancient Egyptians build The Great Pyramid of Giza? How did they transport the giant slabs of stone from which it is constructed? A recently discovered diary has provided insight into the 4,000-year-old Egyptian infrastructure.
One of the Seven Wonders of the Ancient World, the 455-foot-tall tomb of Pharaoh Khufu took 20 years to build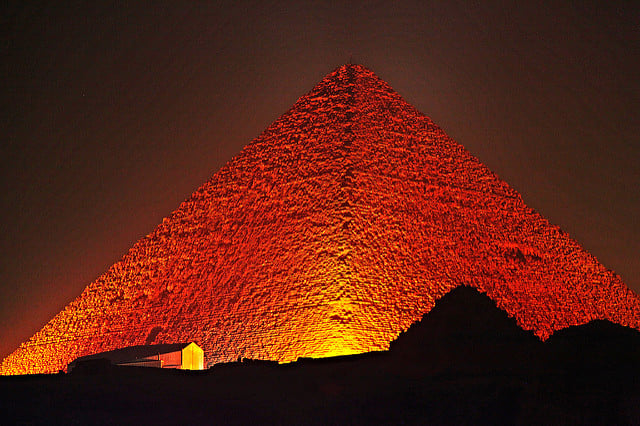 Great Pyramid of Giza at night. Source: paweesit / CC BY-ND 2.0 and was completed circa 2,560 B.C. A total of about 2.3 million stones—limestone from Tura, on the Gulf of Suez, and rose granite from Aswan, 500 miles south—comprise this monument to Egyptian engineering prowess. The pyramid's total mass is estimated at 5.9 million metric tons, quite a lot of rock to haul.
Archaeologists can now shed some light on this millennia-old mystery, thanks to the diary of Merer, an Egyptian official who led a team of 200 men engaged in building this, the largest of the Giza pyramids. In 2013, French archaeologist Pierre Tallet discovered a trove of papyrus rolls, the oldest known papyri extant, in a series of caves in Wadi Al-Jarf—on the eastern coast of the Red Sea. Some of these scrolls contain Merer's diary.
Until the diary was discovered, Egyptologists did not know how the building materials traveled from Aswan and Tura and elsewhere in Giza, and they did not think that Egyptians were a seafaring people. Merer answers the "how" question and disproves the assumption about Egyptian seaworthiness. He provides an eyewitness account, describing how his crew loaded boat after boat with Turan limestone and navigated their way through purpose-built canals directly to the building site. Knowing to look for the system of canals, archaeologist Mark Lehner discovered evidence of the ancient waterway. Merer's crew helped to create the canals, building huge dikes to divert water from the Nile to fill them.
Lehner also uncovered remains of a ceremonial boat built for Khufu to command in the afterlife. His team discovered that the planks that constituted the boat were sewn together with rope.