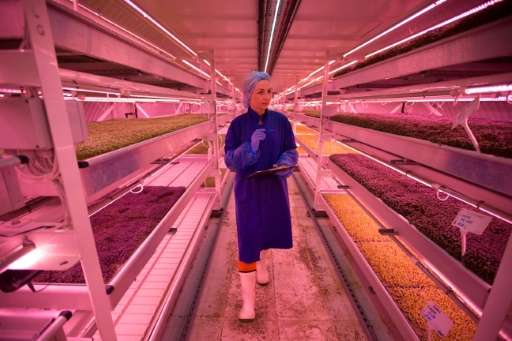 An old World War II shelter in Clapham, which could protect up to 8,000 people from Nazi German bombs, consists of two large tunnels that were intended to one day become an extension of the London Underground. Source: AFPA London underground air raid shelter, originally constructed to protect up to 8,000 people from World War II bombings, is finding new life as an urban farm.
Located in Clapham, the abandoned space 108 feet below the surface of the road is home to vertically stacked layers of vegetable leaves (also called microherbs). These grow through a process called hydroponics, where soil is replaced with a combination of water solvent and a nutrient solution. Farmers are able to grow the microherbs using LED lights that mimic daylight.
"We need to create these new fertile spaces" to meet demand from an expanding global population, said Steven Dring, one of the entrepreneurs behind the project called "Growing Underground."
Proponents of the underground vertical farming method believe the process will help address future food shortage concerns in addition to creating jobs and reducing pollution and transportation costs.
Likewise, the method has the added benefit of exposing the vegetables to consistent environmental conditions.
"We have a lot more control than usual growers...when in the winter days it's cold under the glass, it will take you 25 days to grow red mustard. It will always take us 10 days to grow red mustard," Dring said.
He added: "There's nothing that stands as a major challenge, apart from building a farm underneath London."
Currently, the farm supplies its bounty to a growing number of London restaurants and grocery stores.