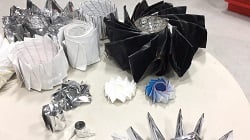 Some examples of origami designs at JPL. Engineers are exploring this ancient art form to create folding spacecraft. Source: NASA/JPL-Caltech
Engineers at NASA's Jet Propulsion Laboratory in Pasadena, California, are exploring the use of origami in designing spacecraft structures.
The Japanese tradition of paper-folding has been applied in this field before, most notably in the development of solar arrays like those on the International Space Station. More recently, the technique was used to configure the Starshade, an origami-inspired structure proposed to unfurl to an 85 ft (26 m) diameter to block light from distant stars. Starshade could be deployed to improve the capability of space telescopes, such as the Wide Field Infrared Survey Telescope, to detect orbiting exoplanets.
The folding pattern, based on multiple layers of material to block starlight, also minimizes the risk of light penetration in the event of micrometeorite strikes and subsequent punctures.
Another application is being evaluated for the Transformers for Lunar Extreme Environments experimental concept. Researchers say that unfolding reflective mirrors could be used to transmit solar energy into deep craters on our moon to power machinery.
The use of folding structures for radiation shielding and to expand the functionality of CubeSats is also part of NASA's origami-based design plans.