Commercial space flight is a massive industry. Economic activity totaled $208.3 billion in 2009 from commercial space transportation, enabling industries such as launch vehicle manufacturing and satellite services, according to the most recent economic impact report by the Office of Commercial Space Transportation.
Private space flight activity encompasses a broad range of services from satellite launches to cargo mission supplying the International Space Station (ISS). Private companies operate satellites providing services such as GPS navigation and Earth imagery as well as telecommunications services like satellite radio, television, and internet. The commercialization of space has the potential to expand greatly in the future with activities such as asteroid mining and space tourism, including suborbital flights, trips to an orbiting space station or flights around the moon.
The dawn of space tourism occurred sixteen years ago on April 28, 2001, when businessman Dennis Tito became the first space tourist. He traveled to the International Space Station aboard a Russian Soyuz spacecraft on a mission organized by Space Adventures, a Virginia-based company that launched seven private citizens into space over eight years starting in 2001. Each of those missions employed a spot aboard a Soyuz spacecraft owned and operated by Roscosmos, the Russian government space agency.
The first privately funded and flown manned space flight occurred on June 21, 2004, with Mike Melvill piloting Scaled Composites' SpaceShipOne on a suborbital flight. SpaceShipOne went on to win the $10 million Ansari X Prize on October 4, 2004, for Scaled Composites by being the first reusable crewed spacecraft launched into space twice within two weeks by a private company.
To the Moon
Private space flight companies are ramping up plans to send paying customers into space. SpaceX plans to launch two private citizens on a flyby mission around the moon in 2018. The trip will be fully autonomous — intervention in spacecraft operations would only be required during emergencies. The mission's trajectory will take the two passengers on a weeklong trip skimming the surface of the moon, traveling some 300,000 to 400,000 miles into deep space, and looping back to Earth.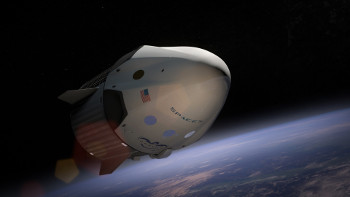 Artist's concept of the Dragon 2 crew module. Source: SpaceX
The passengers, who have already paid a large deposit, will undergo health tests to determine their fitness for the flight and begin training later this year. The cost of the mission is comparable to a mission bringing an astronaut crew to the ISS.
The mission would use a modified Falcon 9 rocket known as the Falcon Heavy that has two additional first stage boosters attached. The passengers will travel in the Dragon 2 crew capsule that SpaceX is developing as part of NASA's Commercial Crew Program to transport astronauts to the ISS. Dragon 2 is a variant of the Dragon cargo capsule that SpaceX developed to transport supplies to the ISS as part of NASA's Commercial Resupply Services contracts. SpaceX's contracts to transport cargo and astronauts for NASA total about $4.2 billion.
In late 2017, SpaceX will launch a demonstration flight of the Dragon 2 with no crew aboard. The first crewed flight is scheduled to occur in the second quarter of 2018. The mission around the moon will happen in late 2018 after an evaluation of the Dragon crew capsule and Falcon Heavy rocket by the Federal Aviation Administration (FAA).
SpaceX's ultimate goal is to set up a colony on Mars and establish humanity as a multiplanetary species.
Suborbital Flights
One of SpaceX's competitors, Blue Origin, is also developing space vehicle launch systems for space tourism. Founded by Amazon.com founder Jeff Bezos, Blue Origin's New Shephard reusable manned rocket launch system is designed to take up to six passengers on suborbital flights, providing several minutes of zero gravity at altitudes above 100 kilometers. The spacecraft can also be used to carry out zero-g experiments.
New Shephard is currently undergoing unmanned test flights. Crewed flight testing will begin in late 2017 with commercial suborbital flights scheduled to begin in 2018.
SpaceX and Blue Origin aren't the only companies looking to cash in on the space tourism industry. Virgin Galactic is developing an air-launch space vehicle system known as SpaceShipTwo that has room to take two pilots and six passengers on suborbital flights.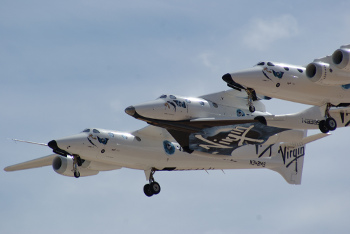 Virgin Galactic's SpaceShipTwo in flight. Credit: Jeff Foust
SpaceShipTwo is a two component system. It consists of a jet-powered cargo aircraft known as White Knight Two that releases a rocket-powered spaceplane at high altitude to fly the rest of the way into space.
The first SpaceShipTwo was destroyed in an accident in October 2014. The second vehicle began flight tests in December 2016. Commercial passenger flights are expected to begin in 2018. 500 tickets priced at $250,000 for a suborbital flight aboard the spacecraft have already been sold.
Bigelow Aerospace is another space technology company. It is developing inflatable space habitats that can be used to house scientific experiments or host space tourists. The company signed an agreement in 2016 with United Launch Alliance, a joint venture between Boeing and Lockheed Martin, to launch its B330 space habitat aboard an Atlas V rocket in 2020. The B330 module contains 330 cubic meters of space, which is one-third the entire volume of usable space on the ISS. The module could be attached to the ISS or operate on its own.
Regulatory Landscape
Launching rockets into space with humans onboard comes with considerable risks and safety concerns. The current U.S. regulatory landscape has limited protections for private space flight passengers. In 1984, the Commercial Space Launch Act created the Office of Commercial Space Transportation with the authority to encourage and regulate commercial space rocket launches.
The act was amended by the Commercial Space Launch Amendments Act of 2004, which limited the government's ability to regulate space vehicle safety unless a serious accident occurred, giving private space flight companies a "learning period" in which they had more flexibility in their spacecraft designs and mission operations. The limitations were originally set to expire in 2012 but were extended through 2016. In 2015, the Spurring Private Aerospace Competitiveness and Entrepreneurship (SPACE) Act extended the learning period through 2025.
The SPACE Act also encourages commercial exploration for and recovery of space resources like minerals contained within asteroids by authorizing private ownership of space resources.
Another provision of the SPACE Act extended the limited indemnification private companies are accountable for in the event of space launch accidents. Under the law, extended through 2025, third parties are held responsible for damages only up to a maximum probable loss (MPL) determined by the Office of Commercial Space Transportation. Any amount over the MPL is the responsibility of the government. Limiting private spaceflight companies' liability minimizes financial uncertainty for the industry and encourages private spaceflight activity.
With a regulatory framework that encourages commercial development, rapidly maturing technological capabilities and customer demand for trips into space, the private space flight industry has a bright future ahead of it.