The Future of Automotive Fuel: Seaweed
S. Himmelstein | September 21, 2017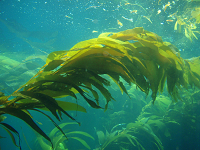 PNNL researchers are developing two different technologies that could one day enable cars and trucks to run on biofuel made from seaweed grown in the open ocean, including the kelp shown here. Source: NOAA
Gasoline, diesel, ethanol, batteries, compressed natural gas and hydrogen should all be recognizable as automotive fuels. Here's one you may not have considered: seaweed.
According to the U.S. Department of Energy, the U.S. could produce enough macroalgae to meet about 10 percent of the nation's annual energy needs for transportation. But first, technologies are needed to maximize production of this potential biofuel crop.
Armed with funds from the department's Advanced Research Projects Agency-Energy, the U.S. Pacific Northwest National Laboratory (PNNL) is embarking on two seaweed production projects.
An autonomous cultivation system that runs along a 5-kilometer carbon-fiber rope is under development as a low-cost cultivation method. The longline system will be kept afloat by free-floating buoys equipped with sensors that track the farm's position, speed of movement and underwater light exposure. Data from the sensors will automatically calculate growth of two species of kelp growing along the line. The line's carbon fiber used in the Nautical Offshore Autonomous Device, or NOMAD, will be made with composite waste materials from the aviation industry.
Knowing where to grow seaweed is as crucial as knowing how to grow it. The researchers plan to develop a set of advanced modeling tools that can predict the best locations and times to efficiently cultivate seaweed in an open-ocean farm. Several existing modeling tools will be tapped to evaluate seaweed growth potential, nutrient availability, and how natural phenomena such as wind, currents, tides, waves and storm surges could affect the productivity of manmade seaweed farms.