The 40-foot Catalyst E2 Max electric bus from Proterra has 660 kWh of energy storage, which delivers a standard range of 194 to 350 miles. The company reports a recent trial in which a single-charge range record has been documented: the bus traveled 1,101.2 miles at the Navistar Proving Grounds in New Carlisle, Ind.
The record eclipses the 1,013 miles posted six years ago by the Schluckspecht E, an aerodynamic electric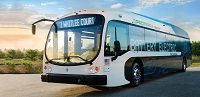 The Proterra Catalyst 40-ft zero-emission electric bus. (Source: Proterra)vehicle from Germany which is 46 times lighter than the Proterra bus.
Proterra has demonstrated the improved range and battery performance over the last three years. Last September, the Proterra bus drove 603 miles with 440 kWh of energy storage, and in 2015, Proterra drove 258 miles with 257 kWh of energy storage on a single charge. This year's world record range marks exceptional performance improvements over prior years, and underscores Proterra's commitment to innovation and accelerating the mass adoption of heavy-duty electric vehicles.
Transit agencies are taking note of the Catalyst E2 Max because of its low operational cost per mile compared to conventional fossil-fuel powered buses. According to Bloomberg New Energy Finance, lithium-ion battery prices have dropped by roughly 72 percent since 2010, and the economics for batteries continue to improve.