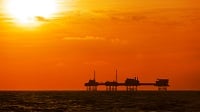 Oil rig in the North Sea. (Image: Thinkstock)The UK appears to be running out of oil, according to University of Edinburgh, Scotland, researchers.
Analysis of output from offshore oilfields leads researchers to estimate that about 10% of the UK's recoverable oil and gas remains - about 11% of oil resources and 9% of gas resources. Discoveries of new hydrocarbon reserves have consistently lagged behind output since the point of peak oil recovery in the late 1990s. And a dearth of sites with suitable geology renders fracking economically infeasible.
The country may be entering its last decade of oil and gas production, pointing to a near-term need to import all of these resources. Increased penetration of offshore wind, solar, and other forms of renewable energy is advocated.
The research appears in The Edinburgh Geologist, published by the Edinburgh Geological Society.