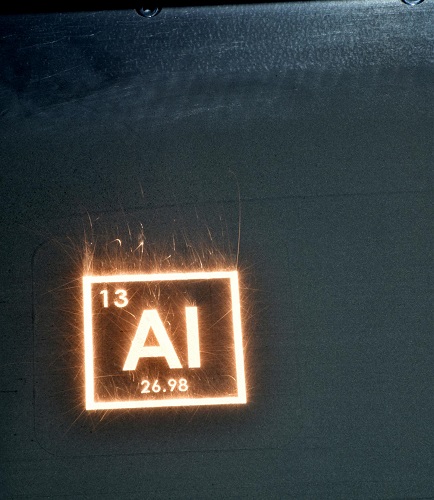 Unweldable aluminum can become weldable using a new 3D printing technique. Source: HRL Laboratories Research house HRL Laboratories LLC has successfully developed a 3D printing technique to manufacture high-strength aluminum alloys paving the way to possible new ways to engineer parts for aircraft and automobiles.
The aluminum alloys, including types AI7075 and AI6061, have an added benefit in that the method can be applied to additional alloy families such as high-strength steels and nickel-based superalloys that have often proved difficult to process with additive manufacturing.
"We're using a 70-year-old nucleation theory to solve a 100-year-old problem with a 21st century machine," said Hunter Martin, an engineer in HRL's Sensors and Materials Laboratory.
Metal additive manufacturing typically begins with alloy powders that are applied in thin layers and heated with a laser or other direct heat source to melt and solidify the layers. However, if unweldable aluminum alloys are used, the parts suffer severe hot cracking rendering the part to be pulled apart.
The technique developed by HRL uses specially selected nanoparticles — in this case, zirconium — decorated inside the unweldable alloy powders that are then fed into a 3D printer, which layers the powder and laser-fuses each layer to construct a 3D object. The nanoparticles act as nucleation sites for the alloy microstructure during the melting and solidification process which prevents hot cracking and allowing for retention of full alloy strength in the manufacturing part.
The process allows unweldable alloys to become weldable and also scalable as well as low cost. Conventional alloy powders and nanoparticles produce feedstock with nanoparticles uniformly across the surface of the powder.
"Our first goal was figuring out how to eliminate the hot cracking altogether. We sought to control microstructure and the solution should be something that naturally happens with the way this material solidifies," Martin said.
Researchers believe this metallurgy process could launch a new chapter in additive manufacturing of metals for research, industry and defense.