The potential for different electrochemical oxidation processes to degrade atrazine was evaluated by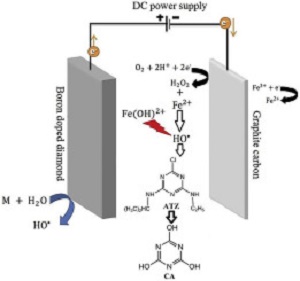 Schematic of electrochemical advanced oxidation processes. (Courtesy of CNRS/INRS)researchers from Canada and France. The herbicide is commonly detected in surface waters in Quebec.
Photo-electro-Fenton (PEF), electro-Fenton, and anodic-oxidation with simultaneous hydrogen peroxide formation treatment methods were tested. Over 99 percent of the atrazine was eliminated from synthetic solution and real agricultural surface water enriched with the herbicide after 15 minutes of treatment. PEF proved the most effective in removing the chemical and its by-products.
After 45 minutes of treatment, the by-products were all in concentrations lower than the detection limit in synthetic samples. In surface water, anywhere from 96 to 100 percent of the by-products were eliminated.
Additional research is needed to effectively combine PEF with a biological treatment process in a water treatment plant and make it more energy efficient. Future studies should also examine how atrazine degradation mechanisms function in the presence of organic matter.
Scientists from Institut National de la Recherche Scientifique (INRS)-Université du Québec, Canada, and CNRS-Université de Strasbourg, France, participated in this research.