It wasn't enough for Vanderbilt University researcher and professor of biological sciences Ken Catania to confirm the legendary ability of electric eels to leap out of the water while attacking. He was also determined to measure resistances and current for each component of an attack. And how else to do this other than sticking one's arm into a tank full of eels?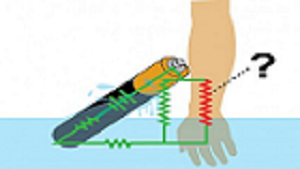 Vanderbilt researcher Ken Catania allowed himself to be shocked by an electric eel to solve an equation about the circuit involving eel, arm and water. (Credit: Ken Catania/Vanderbilt University)Catania designed a device that used copper wire to conduct the electricity from eel shocks to his arm back to the water. Using this set-up, he stuck his arm into a tank with small eel 10 times — the only way to get accurate measurements of the circuit created by animal, arm and water. Measuring the shock from those interactions allowed him to solve an equation that he can extrapolate to measure the power released by bigger eels, which can grow to 8 feet or longer.
"It was definitely a good lesson in how efficient the electric eel would be at deterring a predator," said Catania, who worked with a 16-inch-long juvenile eel he affectionately named Finless. "Eels are essentially batteries immersed in water, and I wanted to solve the question of how powerful those batteries are. What's the internal resistance of the battery? What's the resistance of the water? My past research left out the last variable: my arm."
Aptly, the research will be published in the September 25, 2017 issue of Current Biology.