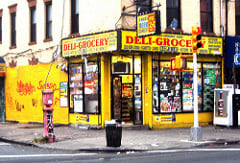 Source: Paul Lowry / CC BY 2.0
Former Google employees Paul McDonald and Ashwath Rajan want to automate a New York City fixture -- the neighborhood bodega.
The neighborhood grocery stores dotting NYC streets are relied on by locals and tourists alike for essentials and nonessentials.
The people behind the startup—also called Bodega—imagine installing five-foot wide, unmanned pantry-like structures, filled with nonperishable items that can be purchased in much the same way as purchasing something from a vending machine, throughout the city. With an app, a customer will be able to open the pantry and eventually be charged for whatever they take.
However, New Yorkers are critical of the technology, voicing concerns about driving the traditional bodega from New York neighborhoods and removing the daily interaction with those running the register at traditional bodegas.
Currently, Bodega has 50 existing installations on the west coast with plans to increase that number to 1,000 by the end of 2018.