Military Drone Adopted by Israel's Defense Force
Peter Brown | September 13, 2017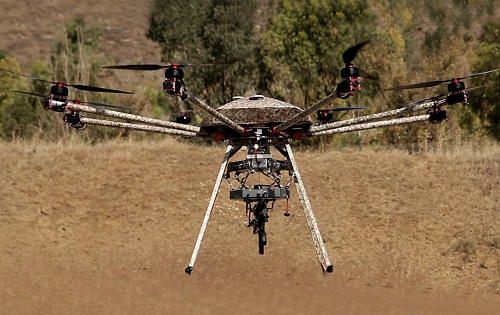 The TIKAD unmanned aerial vehicle. Source: Duke RoboticsDespite Elon Musk and other notable CEOs and professors warning about robotic weapons becoming the third revolution of warfare and escalating conflicts around the world, robotic weapons development is increasing, including the use of drones.
Recently, the Administration for Development of Weapons (ADW) at Israel's Ministry of Defense, which is similar to the U.S. Department of Defense's Defense Advanced Research Projects Agency (DARPA), unveiled a number of military developments to be implemented into Israel's Defense Forces service on land, sea and air called Weapons of the Future.
One of those military machines was Duke Robotics' TIKAD unmanned aerial vehicle. TIKAD is a weaponized system on an airborne platform that is remotely operated by troops. Duke Robotics says the drone is user friendly and can be easily carried into the field.
TIKAD absorbs the recoil of a weapon allowing for pinpoint targeting and shooting accuracy that can protect troops in a variety of dangerous situations, Duke says. By reducing the need for ground troops, TIKAD is a way to minimize military and civilian casualties, the company says.