Missions to space face a hostile environment with many challenges. On a mission to Mars, operators must contend with high communication latencies. Round-trip communication times between Mars and Earth range from 6.5 minutes to 44 minutes. In addition, the communication window between Earth and Mars is not always open. Every 2.1 years (Mars' synodic period), the sun blocks communication between the planets for 14 days. Intelligent machines with the ability to process large amounts of data and make real-time decisions on their own would increase efficiencies of both manned and robotic missions by avoiding the need to send instructions across the long distances between planets.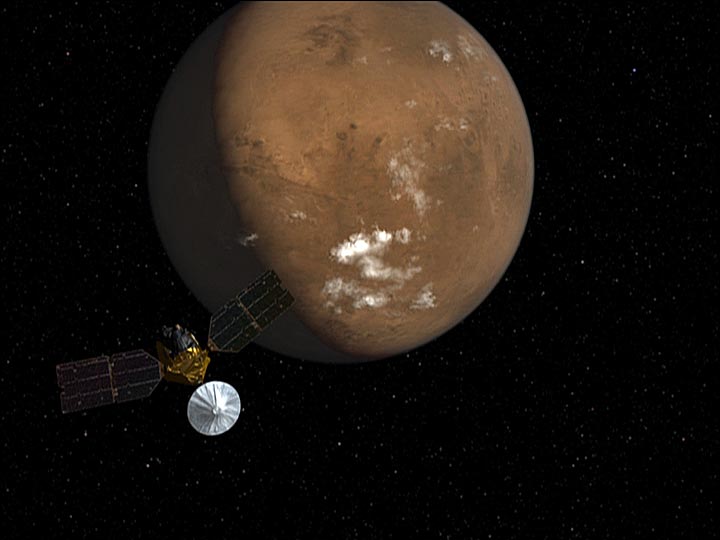 The Mars Reconnaissance Orbiter serves as a communications relay between Earth and Mars. Source: NASA
Artificial intelligence (AI) has the potential to revolutionize space technology. The applications for AI in space are numerous. Computers with the ability to perform image analysis could automate spacecraft guidance, navigation and control. Autonomous spacecraft or rovers would allow more extensive exploration of interplanetary and planetary environments. Intelligent algorithms could provide preventive detection of anomalous situations by identifying off-nominal sensor status trends. Intelligent interfaces could improve human-machine interaction, allowing crews to accomplish tasks more easily and quickly.
Frontier Development Lab
Research into AI for space applications is ongoing. The NASA Frontier Development Lab (FDL) is a public/private partnership between NASA's Ames Research Center and the SETI Institute that seeks to accelerate applied artificial intelligence research. Topics being worked on by teams at FDL include space resource location and planetary defense.
One project is using image analysis to identify locations of water on the moon for use in producing rocket fuel and breathable air. Another team is looking to gain additional warning time for comet impacts by analyzing observational data of meteor showers with deep learning techniques. A third team is attempting to predict solar storms by using AI tools to analyze data from the Solar Dynamics Observatory. By finding connections between magnetic activity in the photosphere and corona, the cause of flares and coronal mass ejections could be determined.
TECO AI System
Artificial intelligence has been put to use in planning and scheduling for the complex and highly constrained operations of satellite missions. Alphasat, the largest European telecommunications satellite, contains four technology demonstration payloads coordinated by an autonomous system known as the Technology Demonstration Payload ESA Coordination Office (TECO). The four payloads aboard Alphasat include a very-high-frequency transponder, a radiation monitor, a laser communication terminal and a startracker. TECO formulates a weekly schedule comprised of hundreds of payload actions by taking into account the limitations of each device and requests for instrument activity from mission operators.
AEGIS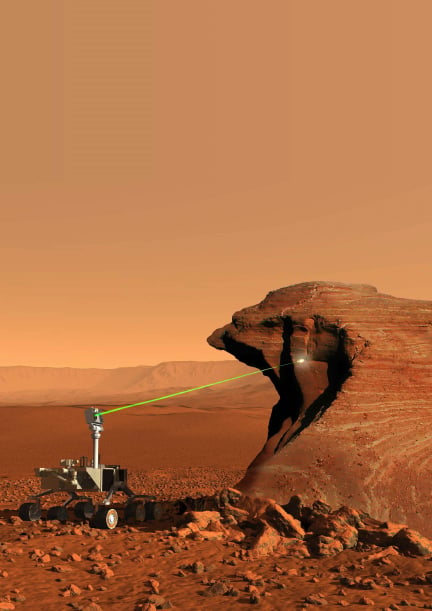 Targets for composition analysis by ChemCam can be selected by an autonomous system known as AEGIS. Source: NASAPlanetary ground missions can also be improved by artificial intelligence. Software known as Autonomous Exploration for Gathering Increased Science (AEGIS) on the Mars rover Curiosity selects targets for its ChemCam instrument, which analyzes the chemical composition of martian rocks. AEGIS takes images from the rover's navigation camera and applies criteria chosen by scientists such as rock brightness or size. The autonomous targeting saves scientists time, especially when there are delays in data transmission from Mars due to the schedules of the planets and spacecraft activity.
Swarm AI
Swarm intelligence is a subset of distributed artificial intelligence that involves the control of multiple agents that interact between themselves and their surroundings. An example is a formation of satellites that autonomously adjust position and facing for applications including remote Earth sensing, navigation or communication services, or astronomical observations. A constellation of satellites controlled autonomously by swarm intelligence could be treated as a single resource with lower communication and control costs compared to an array of separate machines that lack autonomous capability. Such a swarm could also benefit from cost reductions associated with the mass production of components and the reduced launch costs of easily stowed satellites.
AI has the potential to address many challenges in space, from planning and scheduling mission operations to automating image analysis. Machine learning programs can sift through very large data sets to produce results more quickly than humans performing manual data analysis. AI could improve the quality of data from science missions by automating sample selection and validation of data. Faults could be identified sooner to speed up diagnosis and repair. Spacecraft trajectories could be optimized to find the best route through the solar system. AI is a rapidly advancing field that is sure to find many applications in the boundless expanse of space.