A new microfluidic device was designed by Purdue University researchers to serve as a platform for assessing breast cancer formation risk factors. The small plastic case with several thin layers has an opening for a piece of paper where researchers can place a portion of tissue. This risk-on-a-chip system produces risk factors for cancer and mimics what happens in a living organism.
"Unlike conventional 2-D monolayer cell culture platforms, ours provides a 3-D cell culture environment with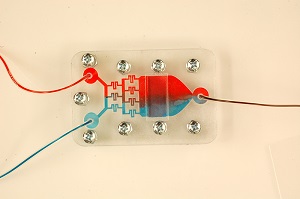 Demonstration of concentration gradient in microfluidic system using red and blue color dye solutions. (Source: Purdue University)engineered gradient generators that promote the biological relevance of the environment to real tissue in the body," said researcher and graduate student Rahim Rahimi.
Addition of sensors that measure oxidative stress and tissue stiffness of the cellular culture is expected to allow for continuous monitoring of the tissue. The device will simulate oxidative stress by producing those molecules in a cell culture system that mimics the breast ducts where cancer starts.
Tissue stiffness has been found to contribute to onset and progression of breast cancer. The research team will measure stiffness within a tunable matrix made of fibers, whose density is relative to stiffness.
The system will also be tailored to different populations of women at risk. The researchers say this may reveal differences in primary cells among black, Asian, and white women. The chip could also be used to assess additional risks by inclusion of more cell types and biosensors.