A biomass-fueled fluidized bed gasifier system developed and patented in the 1980s by Texas A&M University researchers was recently operated with cotton gin trash and wood chips for electric power production.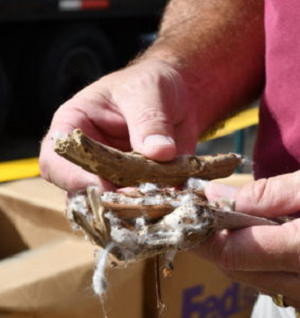 Cotton gin trash and other biomass feedstocks have been used as fuel to generate heat energy for power production. Source: Texas A&M AgriLife Research/Blair Fannin
"We limit the amount of air to thermally convert the biomass so the products are combustible gases. These are collectively called synthesis gas. Carbon monoxide and hydrogen, plus a little methane, ethylene, these are a combustible mixture. Combustible in a sense that you can feed it into an internal combustible engine coupled with a generator so you can turn this fuel into electrical power," said Dr. Sergio Capareda, AgriLife Research agricultural engineer in the department of biological and agricultural engineering at Texas A&M.
"It's easier said than done, because you have to remove the biochar and all the tar in the syngas before it goes into the engine. We have cleaned up the gas very well in this technology."
The system requires about 36 tons of bio-feedstock per day to generate 1 megawatt, depending on the energy content, heating value and moisture content of the biomass.
The economics of the process are particularly attractive, say the researchers. Operating a 1-megawatt capacity system and selling the electrical power at 10 cents per kilowatt hour offers potential for reaping $1 million in gross revenues.