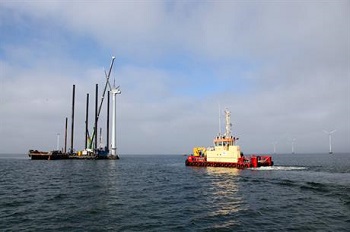 Contractors started dismantling the wind farm in March 2017 and have now finished decommissioning. Source: DONG Energy
After 25 years of operation, the world's first offshore wind farm is being dismantled. DONG Energy began decommissioning the 11-turbine Vindeby site, constructed off southeastern Denmark in 1991, in March 2017.
Blades, nacelle and towers were dismantled and taken down individually by a mobile crane and placed on board a jack-up vessel. The concrete foundations were broken down on site, mainly by hydraulic demolition shears and a hydraulic hammer, but also with milling tools.
Wind system components will be reused as spare parts for other wind turbines. Some blades will be used in research projects at DTU Risø or will be applied in a new noise barrier concept. Equipment not immediately recycled has been transported to a certified recovery company.
One of the turbines will be installed as part of an exhibition at the Danish Museum of Energy.
During its service life, Vindeby Offshore Wind Farm generated 243 GWh of power. This corresponds to what seven of the largest offshore wind turbines today can generate in a single year—or what DONG Energy's largest project to date, Hornsea One, can generate in 17 days.