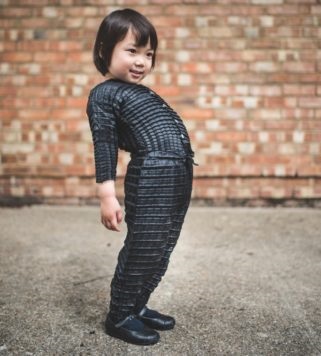 The waterproof shells are pleated so that they can grow bi-directionally to custom fit a large range of sizes. Source: Petit Pli
A UK-based designer has combined materials engineering with fashion to produce children's clothing that grows as a child does. An innovative pleat system allows the garments to expand in multiple directions as needed.
Noting that children grow seven sizes in their first two years, Ryan Mario Yasin, a graduate of the Royal College of Art in London, sought to reduce the amount of clothing wasted as well as the cost to parents. His background as an aeronautical engineer specializing in deployable structures was used to found Petit Pli (French for little pleat).
According to Yasin, "An auxetic structure has been embedded in Petit Pli fabrics, giving the clothing a negative Poisson's ratio. Ergonomic data of children have been studied to design a structure that retains a defined silhouette at different stages of expansion, whilst simultaneously custom fitting children of a wide age range. The expanded shape is directly determined by the packing ratios of the material structure."
The patent-pending pleating process has been tested to prove that the pleats won't fall out with use and the garments are even machine washable.
Yasin is now working on different sizes and designs and seeking commercial partners to scale-up production to bring Petit Pli to market. Until then, he can enjoy his status as the UK National Winner of the 2017 James Dyson Award.