DC UPS Systems Protect Against Voltage Fluctuations or Failures of the Supply Voltage
Peter Brown | September 08, 2017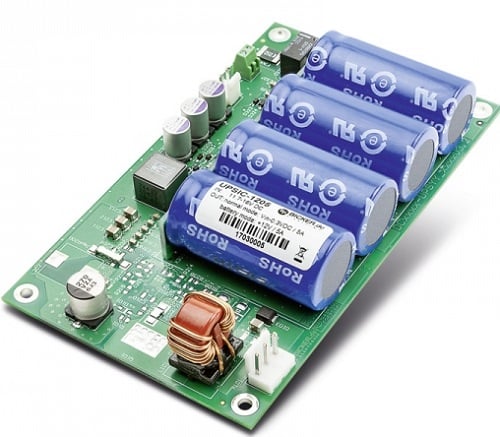 The UPSIC-1205 system. Source: Bicker Elektronik Bicker Elektronik of Germany has introduced two new DC UPS systems that offer uninterrupted power supply of DC loads for motors, sensors, actuators or card readers.
The systems protect against voltage fluctuations, flicker, voltage drops or failures of the supply voltage. Unlike batteries that store energy through a chemical reaction, the modules are equipped with ultracapacitors that are based on electrophysical principles and are ready for operation within a very short time. These supercaps operate in a wide temperature range and are characterized by their high current-carrying capacity, power density and reliability.
Bicker says the UPS systems offer a long service life and are practically maintenance free and due to the compact dimensions are applicable for a wide range of sensitive applications, including the internet of things (IoT), laboratory and medical technology, robotics, kiosks, vending machines, cash registers, and payment systems.
The UPS modules are equipped with an active polarity protection and an overload protection, three LEDs that indicate supercap charge status, normal and backup mode and external units can be switched at "PowerFail."