Watch How Squid Ink Can Eliminate Painful Dental Prodding
S. Himmelstein | September 08, 2017
An update to the tedious – and sometimes painful – dental examination for gum disease is being advanced by University of California (San Diego) nanoengineers.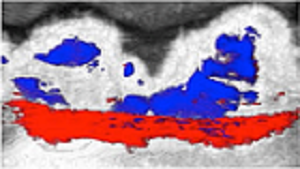 Photoacoustic/ultrasound image after squid ink oral rinse treatment. Ultrasound image of the teeth is in black and white. The photoacoustic signal from the squid ink contrast agent in the pocket depth is in red and signals from stains on the teeth are in blue. (Image courtesy of Jokerst Bioimaging Lab at UC San Diego)The conventional procedure entails inserting a metal probe between teeth and gums to gauge pocket depth as an indicator of disease progression. This invasive and uncomfortable process might soon be replaced with a more accurate and non-invasive method based on use of an oral rinse, followed by photoacoustic ultrasound imaging. The rinse functions as a contrast agent for the imaging technique, which involves use of a short laser pulse to heat and expand the object of interest. The resulting acoustic signal is analyzed to produce a full map of the pocket depth around each tooth.
What's so special about the oral rinse? It contains squid ink.
Melanin nanoparticles in the ink, which absorb light, become trapped in the pockets between teeth and gums. Exposure to laser light heats and swells the ink, generating pressure differences that can be detected by ultrasound.
Results of photoacoustic imaging tests in a pig model were comparable to those obtained with a periodontal probe. The new method also proved consistent across multiple tests, while measurements with the probe varied significantly from one test to another.
The researchers plan to collaborate with dentists and test their method on humans. Future work also includes minimizing the taste of the squid ink oral rinse — it's salty and somewhat bitter — and replacing laser lights with inexpensive, more portable light systems like LEDs. The ultimate goal is to create a mouthpiece that uses this technology to measure periodontal health.