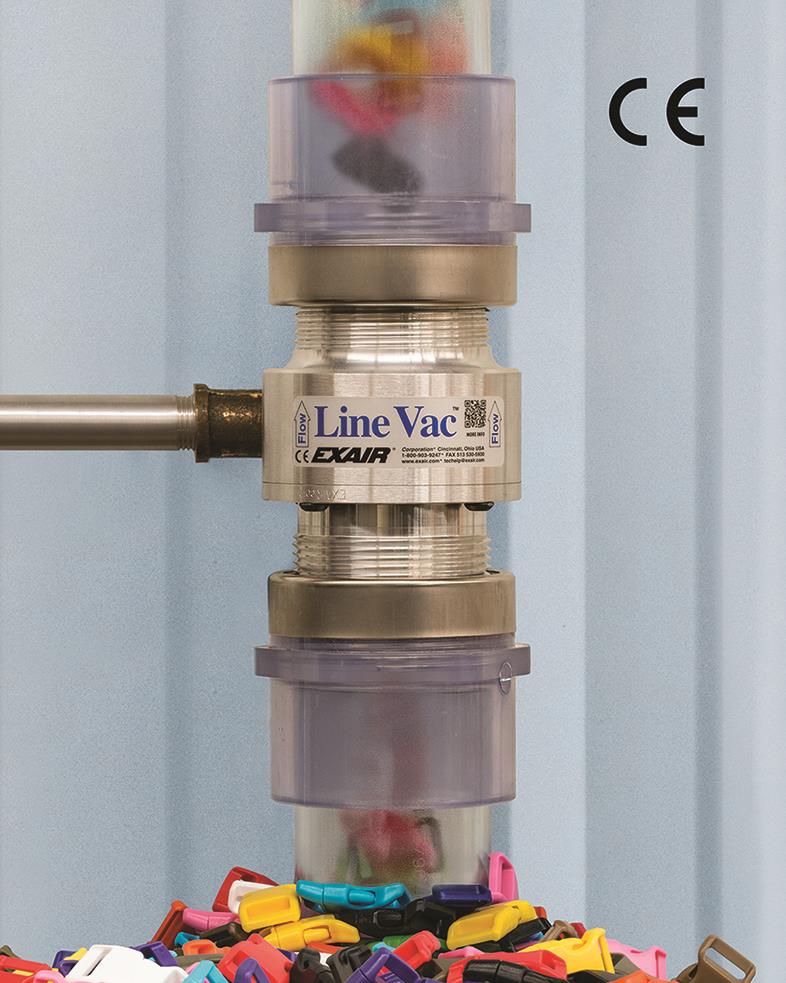 EXAIR Aluminum Threaded Line VacEXAIR has introduced two new sizes to its line of aluminum Threaded Line Vac series of products that convert ordinary pipe into high-volume, air-powered conveying systems for scrap, parts, trim and other bulk materials. The EXAIR aluminum Threaded Line Vac is available in 2-1/2" NPT and 3" NPT versions, ideal for conveying larger parts or bulk material over long distances. The NPT threads attach directly to the pipe for easy construction with standard pipe and fittings.
In order to achieve the high air output flow, a small amount of compressed air is ejected from one end, producing a high-volume flow on the other. Air flow can be controlled using standard compressed air regulators, providing infinite and instantaneous control. Applications include scrap trim removal, material conveying, part transfer, fiber tensioning and filling operations.
EXAIR's aluminum Threaded Line Vacs are CE compliant and meet OSHA pressure requirements. In addition to the larger 2-1/2" and 3" models, smaller sizes down to 3/8" NPT are also available in stock. For high temperature, corrosive or hygienic applications, Line Vacs are also available in type 303 and type 316 stainless steel. Smooth ends provide abrasion resistance when used with hose and tubing. Sanitary Flange Line Vacs are also available for applications requiring frequent removal for cleaning. Threaded Line Vac prices start at $110.00.
For additional information, visit the EXAIR website, or email techelp@exair.com.