The use of shape-memory alloys for dampers and other seismic devices is of interest as these materials can dissipate energy and return to their original shape after deformation. The microstructural properties of these alloys can be improved, and their utility in earthquake-resistant construction materials increased, by the realization of single crystal instead of polycrystalline formation.
A cyclic heating/cooling process developed at Tohoku University, Japan, results in single crystal growth. A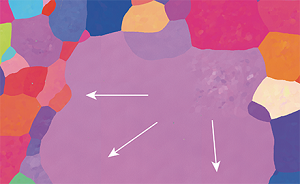 Heat treatment causes a grain to rapidly grow into a large single crystal. Source: Toshihiro Omori/Tohoku Universitymetal's multiple 'grains,' or crystals, grow irregularly, some at the expense of others, when subjected to heat in the 'abnormal grain growth' method. Successive cycles of heating and cooling yield a single-crystal metal bar 79 cm long and with a 15 mm diameter. These dimensions make the material suitable for civil engineering applications.
A copper-aluminum-manganese alloy was heated to 900° C and cooled to 500° C in a process that was repeated five times. Four cycles of heating to 740° C and then cooling to 500° C followed. The method ends with a single heat treatment to 900° C.
The video above documents the super-elastic response of the shape-memory material during a bending test. Increasing the size of the metal's crystals enhanced its elasticity and imparted increased strength.