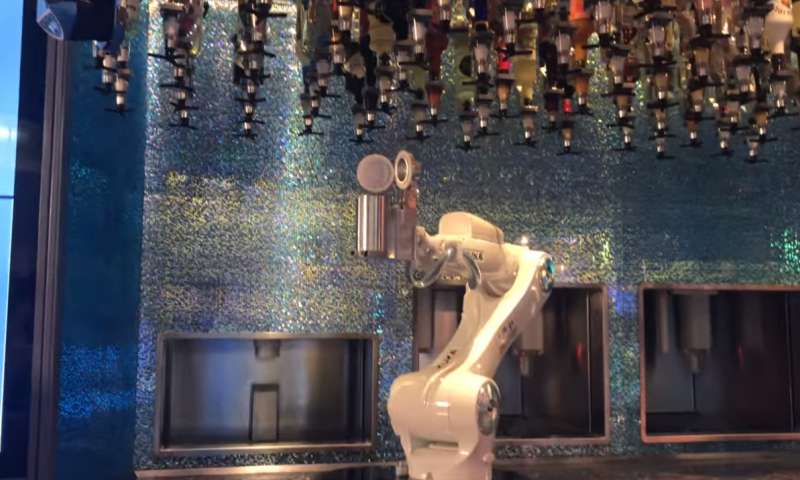 Source: Tipsy Robot Bar, Las VegasAs the fear of being replaced by robots continues to concern workers in a variety of factory and retail settings, another industry could also be feeling the pressure thanks to the rise of robotic bartenders.
Bars throughout the country are experimenting with technology capable of mixing cocktails for patrons. Working much like a vending machine that doles out booze instead of snacks, "Tipsy," a robot used in a Las Vegas mall bar, is able to grab a glass, fill it with ice and make whatever drink the customer requests from a digital menu.
According to Anthony Pallino of the self-service venue L.I. Pour House Bar and Grill in Long Island, NY, the robots can save high-traffic venues such as bars and sports arenas both time and money.
"If you needed five or six servers on a normal night, now you need four," he says, estimating savings in the neighborhood of thousands of dollars a year with each automated server.
"Robots and automation are definitely a quicker and an easier way. The drinks are always the same. You can add a little extra if you want to for the machines, so it makes it really cool," says John Woodall, a tourist from Tennessee.
However, the value of having an actual bartender will not diminish according to some experts.
"There will be situations where using these robots will increase the quality of service, in a busy, noisy environment, for example," agrees Pamela Rutledge, an expert in media psychology.
But she adds that the interaction with an actual live bartender "creates a kind of social connection, it makes you feel like you belong."
To see the Tipsy in action, view the accompanying video above.