Watch Nanomachines Drill Through Human Cells
S. Himmelstein | September 02, 2017
Light-activated nanomachines that can drill holes in cell membranes could be useful for drug delivery or inactivation of cancer cells. An international team of researchers developed the single-molecule nanomotors to spin at 2 to 3 million rotations per second and open membranes in cells.
The paddle-like chain of atoms can be prompted to move in a single direction when supplied with energy. The nanometer-wide motors can be designed to target and then either tunnel through a cell's lipid bilayer membrane to deliver drugs or other payloads or disrupt the 8-10 nanometer-wide membrane, thereby killing the cell. Scientists from Rice University (Tex.), North Carolina State University, and Durham University (UK) say the nanomachines can also be functionalized for solubility and for fluorescent tracking.
"These nanomachines are so small that we could park 50,000 of them across the diameter of a human hair,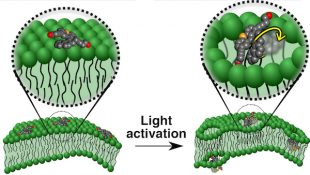 Motorized molecules that target diseased cells may deliver drugs or kill the cells by drilling into the cell membranes. The illustration shows a motorized molecule sitting atop a cell membrane (left) and molecules activated by ultraviolet light drilling into the bilayer membrane (right). (Courtesy of the Tour Group/Rice University)yet they have the targeting and actuating components combined in that diminutive package to make molecular machines a reality for treating disease," said Rice University chemist James Tour.
Ten variants were developed, including motor-bearing molecules in several sizes and peptide-carrying nanomachines designed to target specific cells for death. Control molecules identical to the other nanomachines, but without motors, were also realized.
The motorized molecule's ability to open a synthetic lipid bilayer vesicle, allowing dyed solution to get inside, was demonstrated. Dye-carrying molecular motors were then trapped inside a vesicle and activated with ultraviolet light. Fading of the fluorescent dye suggested the motor had punched through the vesicle wall. The micromotor needed only about a minute to tunnel through a membrane.
Tests on live cells, including human prostate cancer cells, showed that without an ultraviolet trigger, motors could locate specific cells of interest but stayed on the targeted cells' surface and were unable to drill into the cells. When triggered, however, the motors rapidly drilled through the membranes.
Test motors designed to target prostate cancer cells broke through their membranes from outside and killed them within one to three minutes of activation. Smaller molecular motors were harder to track but proved better at getting into cells quickly upon ultraviolet activation, disrupting their membranes and killing them.
The researchers say the rotors may eventually be activated by two-photon absorption, near-infrared light or radio frequencies, which would make the technique more viable for in-vivo treatment.