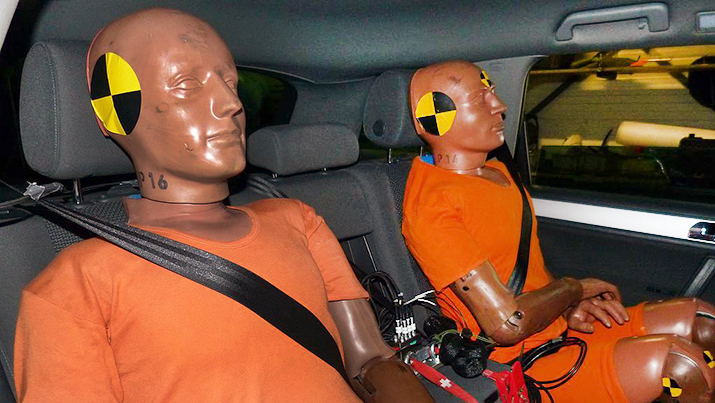 Much collision research is carried out using anthropomorphic crash test dummies. Source: Dynamic Test Center/AGU Zürich, via Wikimedia Commons
Strides in engineering made throughout history touch our lives in many ways — including ones we may rarely think about, yet rely upon daily. For example, the years of research and development represented by the safety features in our vehicles. From seat belts and air bags to the latest developments in crash avoidance technology, automotive engineering has helped us to stay safe on the roads for many generations.
We didn't get there overnight, however. The Smithsonian's online "America on the Move" exhibit paints a picture of a society uncertain how to respond to the dramatically increased risks that accompanied the automobile's entry into society in the first part of the 20th century. Here's a statement that jumps off the introductory page: "The automobile was perceived as a neutral device that merely responded to a driver's commands and could not cause an accident." What!
Auto manufacturers did nevertheless respond to a rising trend in traffic fatalities by addressing some of their products' most fundamental design flaws that compromised safety. Shatter-resistant glass for windshields and brakes on all four wheels were standard issue by the late 1920s, for instance. Soon after, automakers started touting safety improvements as selling points: Hydraulic brakes! Smooth dashboards! Bodies made of steel!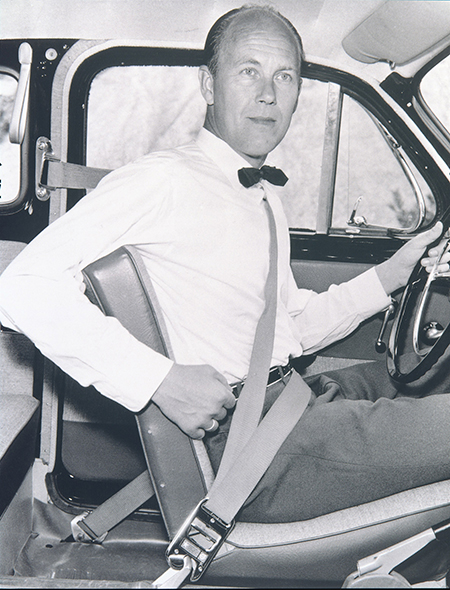 Nils Bohlin, inventor of the three-point safety belt. Source: Volvo CarsStill, while seat belts were invented in the 1930s, it wasn't until three decades later that they were mandated for every new car sold in the United States. Swedish manufacturer Volvo got ahead of the game in 1959 after its engineer Nils Bohlin invented and patented the three-point lap and shoulder version that is still used today — Volvo's move to make the belt standard equipment on all its cars helped to define its early reputation as a safety pioneer.
Perhaps the most important thing to happen to automotive safety engineering, though, was not a particular technological innovation — but rather the societal shift taking place on many levels throughout the mid-to late-1960s. Activist Ralph Nader's publication of Unsafe at Any Speed took car manufacturers to task for their general reluctance to spend money on safety improvements, and public pressure led the U.S. Congress to hold highly-publicized hearings that created the U.S. Department of Transportation and the predecessor agencies that would eventually become the National Highway Traffic Safety Administration (NHTSA). The National Traffic and Motor Vehicle Safety Act enacted in 1966, also became the first law to mandate federal safety standards for motor vehicles. Automotive safety was no longer dependent on the whims of manufacturers and markets — it was required.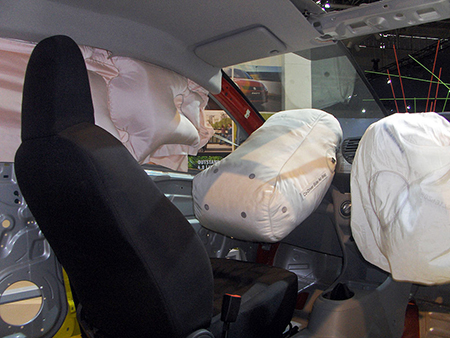 Airbags deployed on a Suzuki Alto. Source: Pineapple fez/CC BY-SA 3.0, via Wikimedia Commons.The next big thing was airbags — seen by some as a solution to the problem of drivers who chose not to buckle up, despite now having the equipment to do so. They were adopted gradually — first as an option for cars such as large Cadillacs in the mid-1970s, as standard in all domestic models made by Chrysler in 1989 and ultimately as required equipment across the board in 1998.
The NHTSA reports that nearly 350,000 lives have been saved by seat belts since 1975, which is when it first began recording data. It also says that the national use rate is currently at 90.1 percent — leaving nearly 27.5 million drivers and passengers that don't buckle up. As for air bags, the NHTSA says that they have saved nearly 40,000 lives during a 25-year period starting in 1987.
Despite these innovations, of course, accidents continue to happen. In the U.S. alone, according to the Association for Safe International Road Travel (ASIRT), over 37,000 people die in road crashes each year. The number is much higher for the world as a whole — a staggering average of 3,287 deaths per day. The Association notes that over 90 percent of all road fatalities occur in low- and middle-income countries, despite the fact that they have less than half of the world's vehicles. Yet, the NHTSA points out that 94 percent of motor vehicle crashes are tied to human choice or error. That says a lot for the reliability of the safety technology itself, human intervention notwithstanding.
The NHTSA actively promotes a number of next-generation crash avoidance technologies for incorporation into American vehicles. One such technology is forward collision warning (FCW) systems, which use sensors to gauge speed and distance between a driver's vehicle and a slower-moving or stationary vehicle directly ahead. FCW systems are designed to alert the driver to take corrective action. Another technology, automatic emergency braking (AEB) systems, takes this a step further by automatically applying the brakes if the driver's response is insufficient. There's another system, PAEB, which works the same way to prevent crashes into pedestrians. All three systems are currently available as optional equipment on some vehicle models.
The NHTSA also endorses lane-assist systems designed to help keep drivers from "drifting" into adjacent lanes. These systems have been developed with a hierarchy similar to that of collision warning systems: lane departure warning (LDW) systems prompt the driver to take correct action with an alert, and lane keeping support (LKS) systems can step in to correct errors and return the vehicle to its intended lane. There are also blind spot detection (BSD) systems that alert the driver to vehicles in adjacent lanes that cannot be seen. All of these systems are also available as optional equipment on some vehicle models.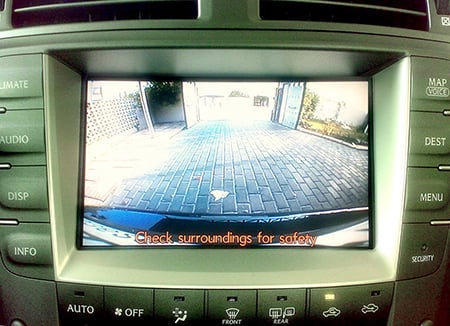 Backup camera system on a Lexus. Source: banoootah_qtr on Flickr.com/CC BY 2.0, via Wikimedia Commons.Perhaps a more familiar safety technology than any of these is represented by rearview video systems (RVS), also known as backup cameras. These display a dashboard or rearview mirror image of what's directly behind the vehicle whenever the driver shifts into reverse. Available as optional equipment on many vehicles, RVS will be required by the NHTSA on all new vehicles by May 2018.
One other modern technological advancement that has entered the automotive safety field is electronic stability control (ESC), a computerized system that can reduce skidding. ESC automatically applies individual wheel braking when it detects loss of steering control — oversteer can be countered by braking applied to the outer front wheel, understeer by braking applied to the inner rear wheel. Manufacturers have developed various versions of the technology, which can go by many names. It has been required on all new cars under 10,000 pounds sold in the U.S. since 2012.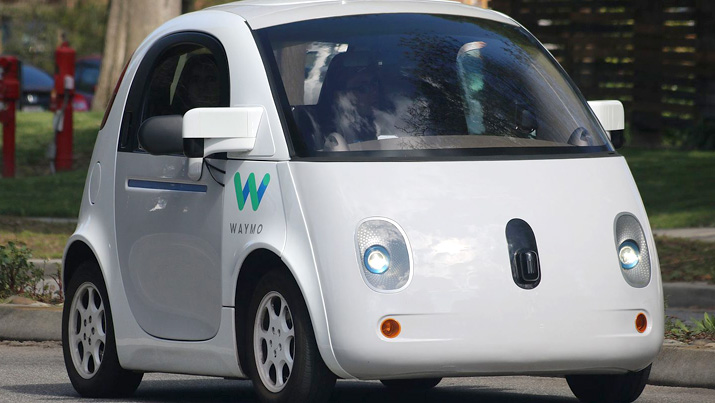 Waymo self-driving car. Source: Grendelkhan/CC BY-SA 4.0.As for the future of vehicle safety, much attention is being devoted to an innovation that has the potential to upend everything — the autonomous car. Using various techniques, including GPS, motion sensors and radar, to detect their surroundings, self-driving vehicles remove the single most dangerous element of automotive operation — the driver. There are many perceived benefits to their incorporation onto the roadways, including increased traffic flow, enhanced mobility, lower fuel consumption and significantly fewer traffic collisions, along with a corresponding reduction in the need for insurance. There is also, however, a new host of safety and privacy issues, a need for new regulations, and even a set of ethical concerns rising in the wake of their introduction – how should an autonomous car's software be programmed to choose between various courses of action where harm is inevitable, for instance? This question is considered in illuminating detail by MIT's Moral Machine, which was featured in our recent article on AI ethics.
Thanks in part to the sheer complexity of factors involved, there's little question that engineers will continue to play a key role in developing the solutions that will bring automotive safety into the next century. If the past is any indication, the road ahead will at times be bumpy, but ultimately navigable – and a pleasure to ride.