See a Methane-Powered Concept Tractor
S. Himmelstein | August 30, 2017
In line with its vision for an Energy Independent Farm, New Holland has developed a methane-powered concept tractor. The on-site production of biomethane from fuel crops and agricultural wastes can help farm operations become energy self-sufficient.
The prototype is equipped with an FPT Industrial engine specifically designed for agricultural applications. The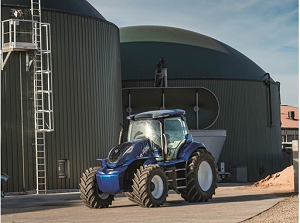 The methane-powered concept tractor fits the company's vision for the sustainable future of farming. Source: CNH Industrial/New Hollandengine delivers maximum power of 180 hp and maximum torque of 740 Nm, comparable to an equivalent diesel power system. Low emissions and high efficiency are the result of stoichiometric combustion technology.
The tractor's fuel tanks are produced using a composite layered tubular structure within a sleek and integrated storage structure fitted at the front of the tractor. Two tanks are also placed on the left and right of the machine in a layout that enables a full day of farm-work autonomy. Refueling is simply accomplished with a single nozzle and with filling time comparable to that of a diesel-powered machine.
Design features include an ergonomic joystick to control the front loader, gear and range shift buttons, hydraulic paddles to manage rear mounted implements, throttle control and power take-off engagement and control. A fixed hub steering wheel mounted display cluster provides immediate access to the most frequently consulted operating parameters, and voice control of key functions enables the operator to keep their hands on the steering wheel at all times for maximum safety during operation.