Petroleum Engineers, Stanford Grads Top New List of Highest-Earning Engineering Workers
Jonathan Fuller | August 29, 2017
Stanford University graduates who majored in engineering represent the top earners in that field, according to a report released today by online salary aggregator PayScale, Inc.
The 2017-2018 College Salary Report finds that the median mid-career salary for Stanford engineering graduates is $158,100, topping the list of 320 engineering schools studied by PayScale. Stanford engineering graduates' early-career median salary sits at $84,200. Stanford also tops the median mid-career salary list for graduates holding at least a bachelor's degree in any major.
Ranking engineering schools by their graduates' mid-career median salary, Columbia University, the University of California-Berkeley, Harvey Mudd College and the U.S. Naval Academy follow Stanford to round out the top five schools. The full list of engineering schools with top-earning graduates is available on PayScale's website.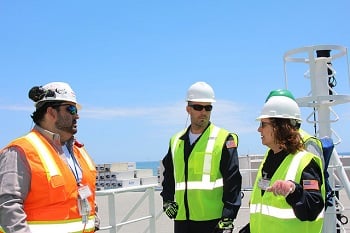 Petroleum engineers top the lists of highest-paid engineering graduates as well as overall bachelor's degree holders.In a broader study of all U.S. colleges and majors, PayScale found that Harvey Mudd ranks first in mid-career median pay for graduates holding only a bachelor's degree in any discipline, at $155,800. The Claremont, Calif.-based, STEM-heavy liberal arts school has an undergraduate enrollment of 831, significantly less than most other colleges with high-earning graduates. It was previously tied for third on that list, according to PayScale's 2016 College Salary Report.
Engineering majors are well-represented in the report's list of highest-paying bachelor's degrees. Petroleum Engineering topped the list with a median mid-career salary of $175,500. Nuclear Engineering, Chemical Engineering and Marine Engineering hold the fourth, fifth and sixth positions on the list, all with median mid-career salaries in the mid-$120,000 range. Of the top 20 degree areas on the highest-paying degree list, 13 are engineering disciplines.
The report also examines the top-paying job titles for each major. The top five positions among engineering majors, along with their median mid-career salaries, are:
Petroleum engineer: $156,000
Principal process engineer: $136,000
Engineering consultant: $134,000
Engineering group manager: $126,000
Chemical engineer, R&D: $123,000
PayScale's report uses data collected from 2.3 million respondents with at least an associate's degree from September 2008 to July 2017. Respondents provided their college major, school name, pay measured as effective annual compensation (EAC) and highest degree earned. The report defines "early career" as three years of experience and "mid-career" as 20 years of experience.
PayScale was founded in 2002 to provide real-time information on job market compensation. It relies on self-reported job profiles and compensation figures to statistically determine salary information.