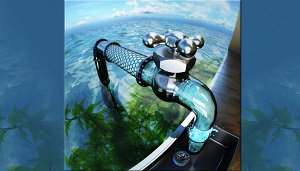 An artist's depiction of the promise of carbon nanotubes for desalination, showing a stylized carbon nanotube pipe that delivers clean desalinated water from the ocean to a kitchen tap. Source: Ryan Chen/LLNL
New carbon nanotubes 50,000 times thinner than a human hair form the foundation of high-flux membrane technology for improved seawater desalination. The nanotube pores are highly water permeable but exclude salt.
Researchers from Northeastern University and U.S. Lawrence Livermore National Laboratory (LLNL) determined that water permeability in nanotubes with diameters smaller than a nanometer (0.8 nm) exceeds that of wider carbon nanotubes by an order of magnitude. The team says the narrow hydrophobic channel forces water to translocate in a single-file arrangement, a phenomenon similar to that found in the most efficient biological water transporters.
Computer simulations and experimental studies of water transport through CNTs with diameters larger than 1 nm showed enhanced water flow, but did not match the transport efficiency of biological proteins and did not separate salt efficiently, especially at higher salinities. The use of smaller-diameter nanotubes provides the required boost in performance.
"Carbon nanotubes are a unique platform for studying molecular transport and nanofluidics," said Alex Noy, LLNL principal investigator on the project. "Their sub-nanometer size, atomically smooth surfaces and similarity to cellular water transport channels make them exceptionally suited for this purpose, and it is very exciting to make a synthetic water channel that performs better than nature's own."