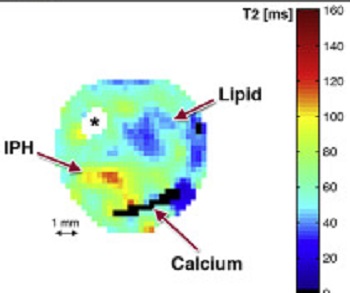 T2 mapping identifies different components of an American Heart Association type VI plaque showing the presence of lipid (blue), recent intraplaque hemorrhage (yellow/red) and calcium (black). Source: University of Oxford
A new application of MRI technology can help physicians predict if a patient is at risk for experiencing a stroke.
The method developed at University of Oxford, UK, yields quantitative data that indicates whether plaques in carotid arteries have high cholesterol concentrations and are therefore more likely to cause a stroke.
The current approach to such risk assessment gauges plaque size in the carotid artery, resulting in surgical removal if it is deemed too big. This procedure can overlook smaller fatty plaques that may still pose a risk of rupturing, blocking arteries and inducing stroke. The new technique distinguishes between high-risk, cholesterol-laden plaques and those that are more stable.
The new cardiovascular MRI protocol is based on T2 mapping, which differentiates between normal and abnormal myocardial tissues. The researchers used the scanning system to measure the amount of cholesterol plaques in carotid plaques of 26 patients scheduled for surgery. Analysis of the plaques post-surgery confirmed the accuracy of their method, and demonstrated that the more cholesterol detected, the greater the risk.