Details of New Hybrid Supercar Unveiled
S. Himmelstein | August 24, 2017
UK-based Ariel is finalizing details for the 2020 production and introduction of a new electric vehicle (EV), the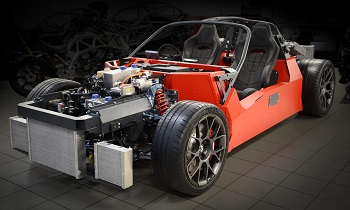 Source: Ariel Motor CompanyHIPERCAR. The High Performance Carbon Reduction car, with a top speed of 160 mph (257 kph), will be available in four-wheel drive and two-wheel drive variants.
The Series Hybrid EV features a 750 V, 42 kWh or 56kWh, lithium-ion, cooled and heated battery pack. The battery is charged as needed by a 35 kW micro-turbine range extender, eliminating range anxiety issues and making the vehicle independent of any charging infrastructure.
Other details include an aluminum folded and bonded lightweight chassis with full rollover protection, aluminum front and rear subframes with aluminum wishbones and outboard adjustable suspension. Forged or carbon composite wheels carry 265/35/20 front and 325/30/21 rear tires.
Powered wheels are driven by inboard motors via integral, single speed step-down gearboxes direct to driven wheels, with each individual motor developing 220 kW (295 bhp) and 450 Nm (332 ft. lb.) of torque. Total torque is 1,800 Nm (1,327 ft. lb.) at motor and 9,900 Nm (7,301 ft. lb.) at the wheels in the four-wheel drive HIPERCAR and 900 Nm (664 ft. lb.) at motor and 4,950 Nm (3,651 ft. lb.) at the wheels in the two-wheel drive car.
The vehicle's electrical architecture consists of high and low voltage systems linked by multiple CAN networks enabling the powertrain controller, vehicle dynamic control interface and battery controller to communicate and interact with 12 V and safety systems.
Ariel and partners Equipmake and Delta Motorsport will next demonstrate both two-wheel drive and four-wheel drive prototypes.