Video: Self-Powered Diagnostics for Remote Point-of-Care Use
S. Himmelstein | August 24, 2017
A self-powered medical device composed of paper provides untrained users with sensitive diagnostics at point-of-care in remote regions. Powered by the user's touch, the device performs electrochemical analyses of blood to detect diseases and also generates color-coded test results.
The inexpensive portable lab—or self-powered, paper-based electrochemical device (SPED)—was engineered at Purdue University (Lafayette, Ind.) for application in low resource settings.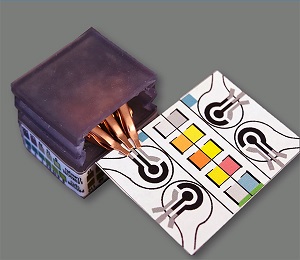 This paper-based diagnostic device detects biomarkers and identifies diseases by performing electrochemical analyses, and the assays change color to indicate specific test results. (Purdue University photo/Aniket Pal)The top layer of the SPED is fabricated using cellulose paper with patterned hydrophobic domains that delineate hydrophilic, wicking-based microfluidic channels for accurate colorimetric assays. The bottom layer is a triboelectric generator (TEG) fabricated on hydrophobic paper and capable of harvesting electric energy from the user's touch. An inexpensive and rechargeable handheld potentiostat interfaced with the SPED enables accurate quantitative electrochemical detection of glucose, uric acid and l-lactate, parameters relevant to liver and kidney function, malnutrition, and anemia. The battery powering the potentiostat can be recharged using the TEG.
A machine-vision diagnostic application automatically identifies and quantifies each of the colorimetric tests from a digital image of the SPED in order to provide fast diagnostic results to the user and to facilitate remote expert consultation.
These devices are compatible with mass-printing technologies, such as roll-to-roll printing or spray deposition. The SPEDS can also be used to power other electronic devices to support telemedicine applications in remote areas.
The researchers plan to expand functionality by incorporating several additional layers for more complex assays to detect diseases such as dengue fever, yellow fever, malaria, HIV and hepatitis.