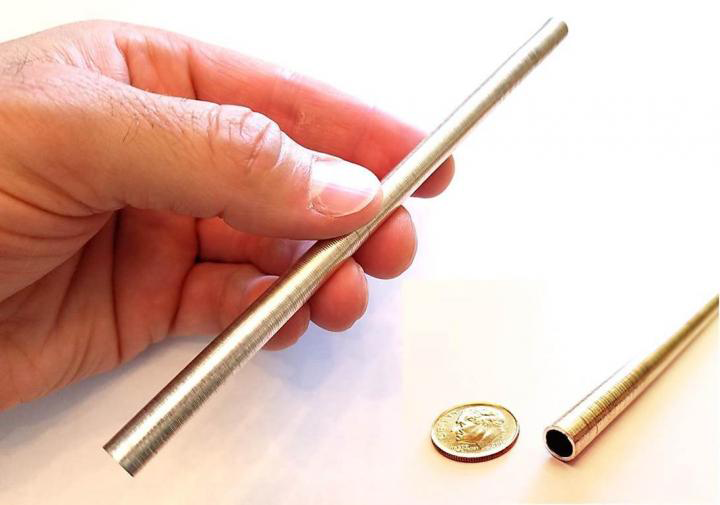 PNNL's ShAPE extrusion process produced this 7.5 mm diameter magnesium tube with a 0.75 mm wall thickness.Auto-industry engineers striving to make cars and trucks that go farther on a tank of fuel or a battery charge might look to magnesium, the lightest of all structural metals, as an answer.
While magnesium is to be found in abundance on the planet, incorporating it into structural car parts has proved challenging. In order for it to achieve the required strength, costly rare-earth elements need to be added. Currently, magnesium components make up only one percent of a typical car's weight.
But a new extrusion process developed at the Department of Energy's Pacific Northwest National Laboratory (PNNL) may change that, and help meet an auto industry goal of increasing magnesium use tenfold by the year 2020. The process, based on research described in Materials Science and Engineering, creates novel microstructures, improving magnesium's ductility as well as its ability to absorb energy.
The PNNL team, led by principal investigator and mechanical engineer Scott Whalen, designed and commissioned an industrial version of their extrusion idea. Their custom-built Shear Assisted Processing and Extrusion (ShAPE) machine relies on spinning during the extrusion process to create just enough heat to soften the metal and form tubes, rods and channels when pressed it through a die. By applying simultaneous linear and rotational forces to create a very soft magnesium state, only one-tenth of the force needed in the conventional extrusion process is used.
"In the ShAPE process, we get highly refined microstructures within the metal and, in some cases, are even able to form nanostructured features," said Whalen. "The higher the rotations per minute, the smaller the grains become which makes the tubing stronger and more ductile or pliable. Additionally, we can control the orientation of the crystalline structures in the metal to improve the energy absorption of magnesium so it's equal to that of aluminum."
Because of the reduction in necessary force, the patent-pending process would enable automakers to use substantially smaller production machinery – thus lowering capital expenditures and operations costs. There is also an energy savings due to the fact that the heat needed to soften the metal comes from the friction generated at the billet/die interface – eliminating the need for power-hungry resistance heaters that surround the billets in traditional industrial extrusion machines.
PNNL's ShAPE technology is currently available for licensing. Already, global auto industry parts supplier Magna-Cosma is teaming with PNNL to advance the development of the new magnesium parts, and will eventually test them in one of their Detroit production facilities.
This article is adapted from a press release by the DoE/Pacific Northwest National Laboratory.